With a ton of buzz and rave reactions from early screenings, Spider-Man: Across the Spider-Verse arrives this week, delivering the highly anticipated sequel to 2018's Academy Award-winning Spider-Man: Into the Spider-Verse. Phil Lord and Christopher Miller return as producers and writers (writing alongside Shang-Chi and the Legend of the Ten Rings's Dave Callaham) for a story that reunites Miles Morales and Gwen Stacy, while greatly expanding the Spider-Verse of the title, as we meet an entire multiverse-protecting Spider-Society.
Joaquim Dos Santos, Kemp Powers, and Justin K. Thompson are the directors this time, on a film that features everyone from Miguel O'Hara to Jessica Drew and Pavitr Prabhakar when it comes to the many, many different Spiders that are part of the story.
Read on for what the directors, Lord & Miller, and returning cast members like Shameik Moore, Hailee Steinfeld, and Jake Johnson told Fandom about the film's bigger focus on Gwen, its impressive combination of bigger than life plotlines with grounded, emotional dynamics, and just who has the best look in the Spider-Verse.
GWEN LIVES IN A (SPIDER) SOCIETY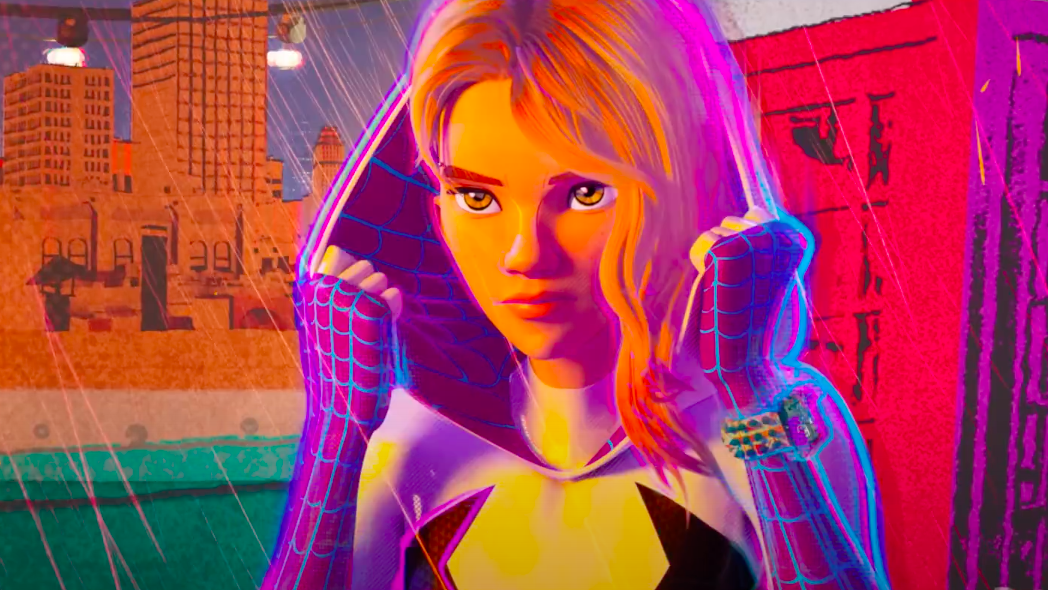 As Phil Lord explained, one of the initial ideas for Across the Spider-Verse was, "What if Gwen got invited to a really cool party and Miles didn't?" – which is how Miles feels about Gwen being part of the Spider-Society when he's not.
We get to see more of Gwen on her own from the get go this time out, which Lord said that allowed them to "Drop you into a universe that you've never been in before. And then the side effect is that when you do finally get to Miles, he feels exciting and new all over again."
Christopher Miller noted, "With Gwen, in the first movie, she seems so cool and confident, like she's got it all figured out, because you're seeing her from Miles' point of view. But we wanted to get a little bit deeper under her so we can understand her psychology and what she was going through. When she comes to see Miles again, and seems cool and confident and got it all figured out, we actually understand that there's a real whole person there with vulnerabilities and issues and a lot of stuff going on that isn't readily apparent to Miles."
Justin K. Thompson said that while Miles is enjoying being Spider-Man, "He longs for this fellowship that he used to have with these other spider people, and especially Gwen, who's [also] a teenager… He related to her, he's been thinking about her."
Thompson pointed out that in addition to that, "Her storyline sort of parallels his and is like a dark mirror of what he's kind of going through. Should you tell your parents that you're Spider-Man? She's kind of there almost as a warning about what can happen."
SPIDER-LOVE?
Miles is clearly crushing hard on Gwen – as his many drawings amusingly give away to her early in the film – and it feels like the attraction is mutual. So what's stopping them from acting upon it when they're reunited?
Shameik Moore, who voices Miles, feels it does have something to do with Miles feeling isolated from the Spider-Society, saying, "I think what keeps them apart is just the circumstances. Gwen is accepted and Miles is kind of taboo right now. But Gwen is also like, 'I don't care about that, that's my friend.' And Miles is like, 'You're my friend and I'm gonna be your friend. I'm going to travel to see you and impress you.' I feel like Miles is inspired by Gwen. Gwen has saved Miles' life a few times, and she's traveling through dimensions and whatnot at will… I think the only thing stopping them is the hurdles, the challenges, but it's also what's gonna make them super strong."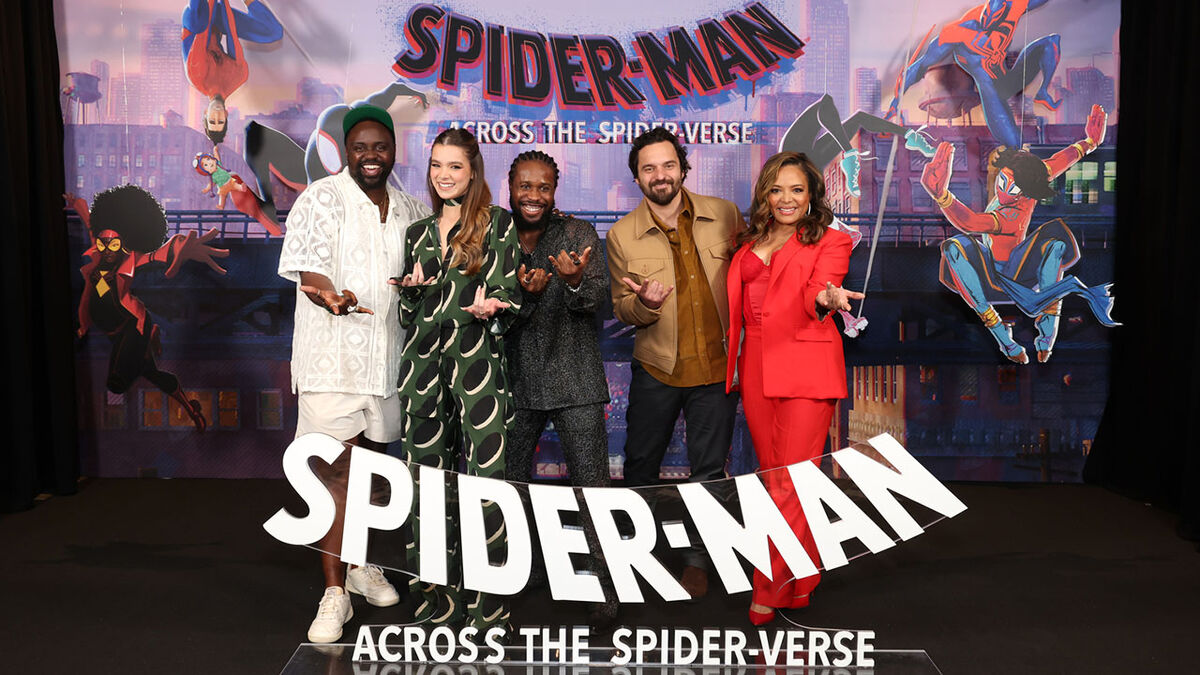 Hailee Steinfeld, back once more as Gwen, agreed that Miles and Gwen likely would be together under different circumstances, remarking, of their hesitation, "If it were really up to them, that might not be the case. I would say the same thing [as Shameik]. There's a lot going on in their own lives and in their own journeys, and it's very similar, so they have each other to lean on. But there's a lot of responsibility that they each have that they have to ultimately get back to."
SECRET RECIPE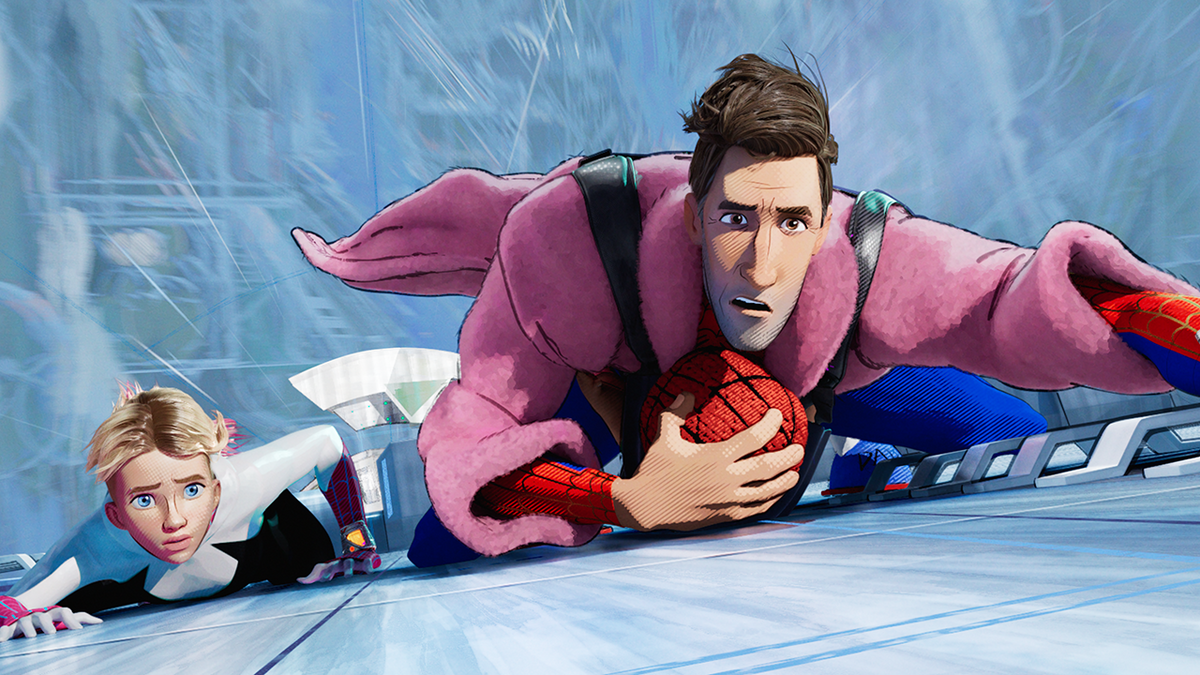 The Spider-Verse films do a phenomenal job of mixing their huge, multiverse-spanning stakes with deeply heartfelt moments in a way that often is difficult to pull off so deftly. Returning as the voice of Peter B. Parker, Jake Johnson had high praise for the writers and directors on the series and their ability to juggle those elements and make those tonal shifts, saying, "Phil Lord and Chris Miller, at the top, are wildly talented. Everything is thought out with them. Everything they've done is always mixing with tone. They can do kind of everything. And then you throw on top of that the unbelievable animation, so visually, it's so good."
He also praised the different directors the films have had –  Bob Persichetti, Peter Ramsey, and Rodney Rothman on Into the Spider-Verse and now Joaquim Dos Santos, Kemp Powers, and Justin K. Thompson on Across the Spider-Verse – and added, "Dave Callaham, one of my favorite screenwriters, came on and wrote this with [Lord and Miller]. So they just keep bringing in more and more talent. And when you've got that much talent, you come up with this!"
The voice of Jefferson Davis, Miles' father, Brian Tyree Henry said he felt that the underlining family dynamic in the films stand out from others, noting from the start of the Spider-Verse films, "The family structure from the first one was so strong and so tight. There was nowhere to hide from our feelings and emotions about how much he cared about each other. We just wanted that to [continue to] reflect, especially now because he's getting older and he's trying to venture away from the home a little bit. What do you do when you're trying to raise a child that you already think is exceptional and who is actually really exceptional? Who is a superhero? How do you nurture them in the best possible way?"
Luna Lauren Vélez, who voices Miles' mom, Rio Morales, said she really appreciated how they could take relatable ideas like Miles wanting to explore more of the world as he gets older and weave into the multiverse-spanning storyline, remarking, "I think they really straddle this line that kids have their family life and then there's the entire universe. It's the outside world, the entire universe." As much as Miles' exploration is going much further than any of us might expect as an average teen, Vélez added his longings still resonate, "Just as a sign of the way things are."
Kemp Powers stressed none of this was as easy as it looks for the Spider-Verse team, saying, "The secret sauce is trial and error. The wonderful thing about this is it's an iterative process. We've made dozens and dozens of versions of this film before we get to the version that actually gets completed, that you see. There's no tougher critics than us and the crew of 1000 people who are making this movie. So we try versions… What makes us laugh? What makes us feel emotional? And when we get to a version that starts feeling good, we show it to a little audience. What makes them laugh? What makes them feel emotion? Are they tracking it? Is it understandable?"
Powers noted, "Anything you see that's good, trust us, in animated features, there was a lot of bad variants first. Finding the balance is something that [we keep working on]… And we do it up until the very, very, very last minute. We tweak the story, we tweak little things about it, up until the very last minute. We just hope that the end result is something that resonates with people."
SPIDER IS PUNK
With dozens, if not hundreds, of choices, I asked some of the Spider-Verse team who had their favorite visual look amongst all the characters seen in this film. Steinfeld quickly replied, "I think Spider-Punk. He's got a real cool look," with Moore saying he completely agreed when it came to Hobie Brown, the British Spider-Man voiced by Daniel Kaluuya. Hobie smashes into the film with loads of attitude and style and also a standout animation approach in terms of the coloring on him purposely looking somewhat unfinished.
Though Johnson noted he thought Pavitr Prabhakar (AKA Spider-Man India, here voiced by Deadpool's Karan Soni) look was another standout, Lord and Miller also went with Spider-Punk for their top choice. Said Lord, "It has to be Hobie Brown. Just the fact that he looks like a zine and that there's not enough toner in the copy machine that made him is really technically challenging and really gorgeous to look at."
Miller said they loved Spider-Punk's visual style and that it reflected his status in the story, remarking, "He is actually the coolest. We wanted to make a character that Miles would be jealous of and that that he would think was was even cooler than him, and Miles is a very cool character. So there was a lot to figure out. But, from a technical standpoint, from a design standpoint, from just a voice standpoint – Daniel Kaluuya, he's the coolest. So that all came together in a really exciting way."
Spider-Man: Across  the Spider-Verse opens June 2.
---