After eleven years and 41 seasons of TV spread out across six live-action series and two animated programs, the Arrowverse comes to an end this week with the final episode of The Flash. This sprawling superhero universe had somewhat humble beginnings in 2012, with the premiere of Arrow. That hit series started off as a grounded take on superheroes but soon led to a spinoff for The Flash and the acknowledgment that superpowers would indeed play a part in this universe. From there, Supergirl, DC's Legends of Tomorrow, Batwoman, and Black Lightning shared so much real estate on The CW that it was practically an all-superhero network at times.
For now, Superman & Lois could possibly carry the superhero flame for Arrowverse fans if it is renewed for a fourth season. But only as an echo, since the producers of that series have previously revealed it does not take place on the same world as the primary Arrowverse and is considered its own reality with distinct versions of the characters rather than a continuation of the Supergirl Clark and Lois who came before (not that we should rule out universe-hopping of course, since we've seen it before).
With The Flash's finale here, we're taking a look back at ten of the greatest moments from the Arrowverse. There were a lot of options to choose from, and not everything made the cut even though it was terrific as well (Beebo, you were awesome!). But there are among the stories and episodes that we'll remember the most looking back at the Arrowverse.
Deathstroke vs. Arrow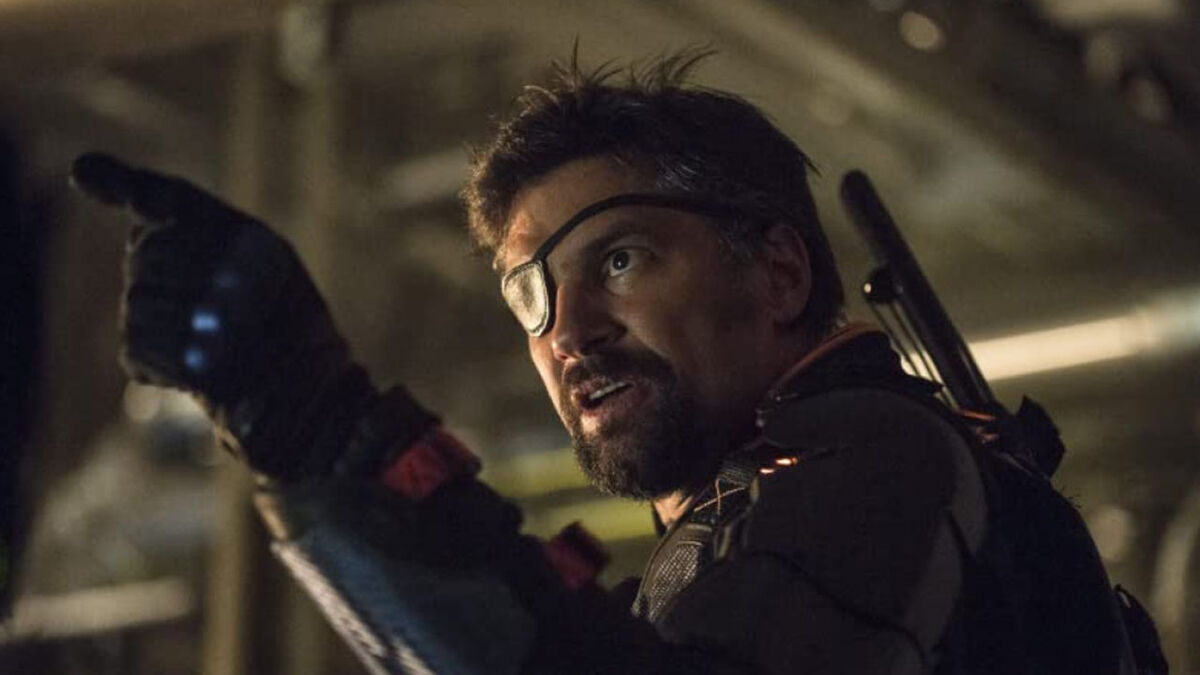 The ultimate confrontation between Oliver Queen (Stephen Amell) and Slade Wilson (Manu Bennett) was hinted at during the opening moments of Arrow when Deathstroke's mask was seen with an arrow through its right eye while staked on the beach of Lian Yu. Slade didn't actually appear until later during Season 1, but he unexpectedly became a friend and mentor to Oliver. Unfortunately, their bond was broken in Season 2.
Within the flashbacks to Oliver's time on the island, viewers saw Slade's obvious attraction to Shado (Celina Jade), a woman who was clearly more in love with Oliver than she was with Slade. At one point, to save Slade's life, Oliver and Shado injected him with Mirakuru, a drug that gave him superhuman abilities and drove him insane. Shortly thereafter, Shado was murdered, and Slade vowed revenge on Oliver.
In the present, Slade revealed himself to be Oliver's ultimate enemy in Season 2 as he fully adopted the persona of Deathstroke, the Terminator. Slade even murdered Oliver's mother, Moira Queen (Susanna Thompson), just to break Oliver's spirit. Events came to a head in the second season finale, "Unthinkable," when past and present collided. The final battle between Oliver and Slade was intercut between their climatic fight five years earlier. It was a truly epic conclusion for the season, and one of the highpoints of the Arrowverse.
The Brave and the Bold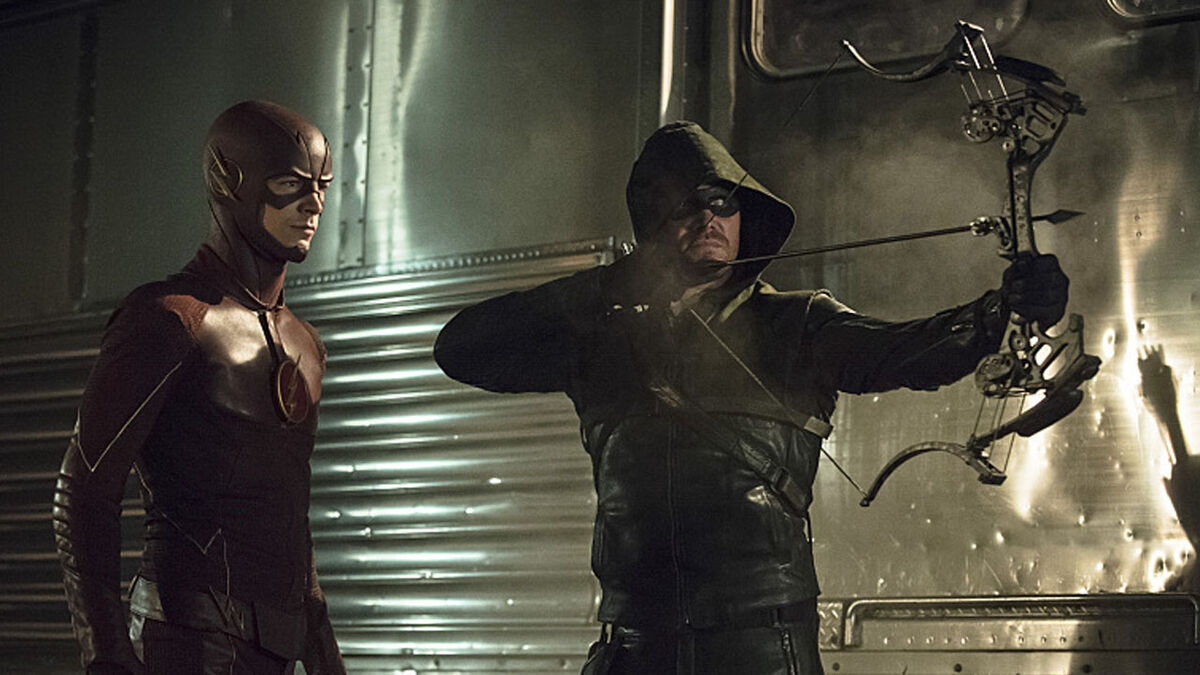 Arrow's success didn't immediately lead to a full-blown Arrowverse. But the stage was set for a spinoff in Arrow season 2's two-part episode, "The Scientist" and "Three Ghosts," which introduced Grant Gustin as Barry Allen, a CSI investigator from Central City who came to Starling City in the hope of finding the man who murdered his mother years earlier. Soon enough, Barry was in on Oliver's secret and he saved his life before giving Oliver his first domino mask.
Barry and Oliver briefly reunited in the first episode of The Flash, when the former was inspired to become his own kind of hero. A few episodes later, the first-ever true Arrowverse crossover took place over two episodes: "Flash vs. Arrow" and "The Brave and the Bold." In the first part, Barry was temporarily turned against Oliver, leading to their obligatory superhero fight. And in the second episode, Barry and Oliver further solidified their bond while going after Digger Harkness (Nick E. Tarabay), a renegade member of Task Force X.
This event became a yearly tradition for the two series, and it became even bigger as more spinoff shows were added to the mix.
Flash vs. Reverse-Flash
The Flash's first season was arguably the best part of the show for several reasons. In particular, there was a lot of tension because viewers learned long before Barry that his mentor, Harrison Wells (Tom Cavanagh), was secretly Eobard Thawne, the Reverse-Flash, and the man who murdered Barry's mother.
Thawne and Flash have constantly clashed throughout the duration of the show, but their battles near the end of Season 1 really stand out. In the penultimate episode of the season, there was even a minor crossover as Oliver Queen traveled to Central City to team up with Barry and Firestorm (Robbie Amell) to subdue Thawne.
But in the season finale, the battle belonged to Barry alone. And Barry wouldn't have triumphed unless his romantic rival (and Thawne's ancestor), Eddie Thawne (Rick Cosnett), took his own life to ensure that the Reverse-Flash could never be born. In a cruel twist for Team Flash, Thawne always found a way to cheat his fate before returning time and time again.
World's Finest
Before Supergirl officially joined the Arrowverse on The CW, it was all by itself on CBS. Regardless, that didn't stop the show's producers from getting the clearance needed from the networks to have Grant Gustin's Flash guest star for a one-off appearance, as he reunited with his former Glee co-star, Melissa Benoist, who headlined the series as Kara/Supergirl.
Within the episode, Barry found himself temporarily trapped on Supergirl's world, where he quickly befriended Kara and teamed up with her against Silver Banshee (Italia Ricci) and Livewire (Brit Morgan). In the episode's most adorable scene, Kara was absolutely giddy when Barry gave her ice cream after a super-speedy delivery. This was easily the most light-hearted crossover of the Arrowverse, and also one of the most fun.
A Hellblazer Returns
Arrow star Stephen Amell was very supportive of NBC's Constantine series, which featured Matt Ryan as John Constantine. Amell even offered to guest star as Oliver Queen on Constantine before NBC ultimately canceled the show after 13 episodes. Thankfully, the producers of Arrow shared Amell's affection for the series, and they managed to get permission to use Ryan's version of Constantine for a guest appearance in Season 4.
Ryan reprised his role in both the past and present day sequences in "Haunted," as it was revealed how Constantine met Oliver on Lian Yu. That's why Oliver was able to call upon Constantine for help in the present when Sara Lance (Caity Lotz) was resurrected without a soul. This story was a prequel for DC's Legends of Tomorrow, which featured Lotz in a leading role alongside Brandon Routh's Ray Palmer, who has a vocal cameo in this episode.
Constantine's return went over very well with the fans, and Ryan came back for a long stint on Legends of Tomorrow that further cemented his take on DC's occult hero.
Showdown on Lian Yu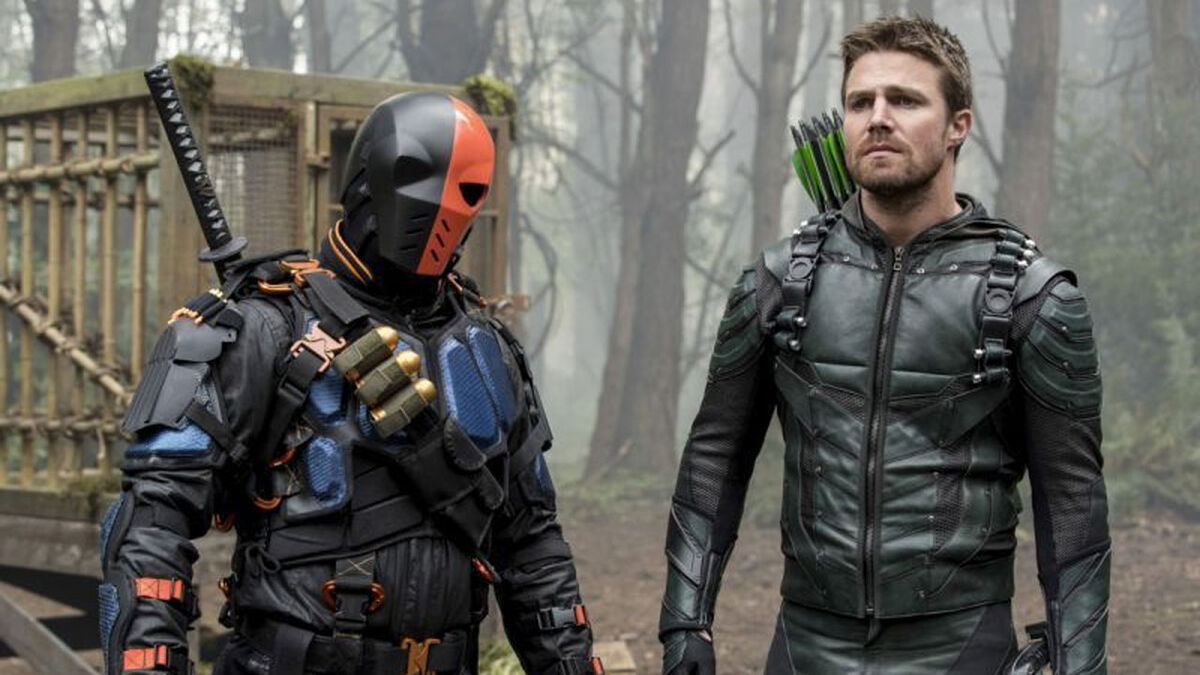 Arrow season 5 pushed Oliver to his limits, thanks to Adrian Chase (Josh Segarra). In the comics, Adrian was Vigilante, but in a swerve, the Arrowverse's incarnation of Adrian was actually Simon Morrison, the son of Justin Claybourne (Garwin Sanford), one of Oliver's first victims during his stint as the Arrow. "Adrian" reinvented himself as Prometheus and he used Oliver's tactics against him while assembling his own twisted version of Team Arrow including Black Siren (Katie Cassidy), Talia al Ghul (Lexa Doig), and Evelyn Sharp (Madison McLaughlin).
In the season 5 finale, "Lian Yu," Prometheus had captured most of Team Arrow, and Oliver's son, William Clayton (Jack Moore), and taken them to the infamous island where Oliver became the Arrow. That's why Oliver turned to two of his former foes, Malcolm Merlyn (John Barrowman) and Slade Wilson (Bennett), to help even the odds. This led to a battle for the ages and one of the few cliffhanger season finales in the history of the show. It also marked the end of Oliver's flashbacks on Lian Yu and sent Arrow in a new direction for its remaining seasons.
Star-Crossed Duet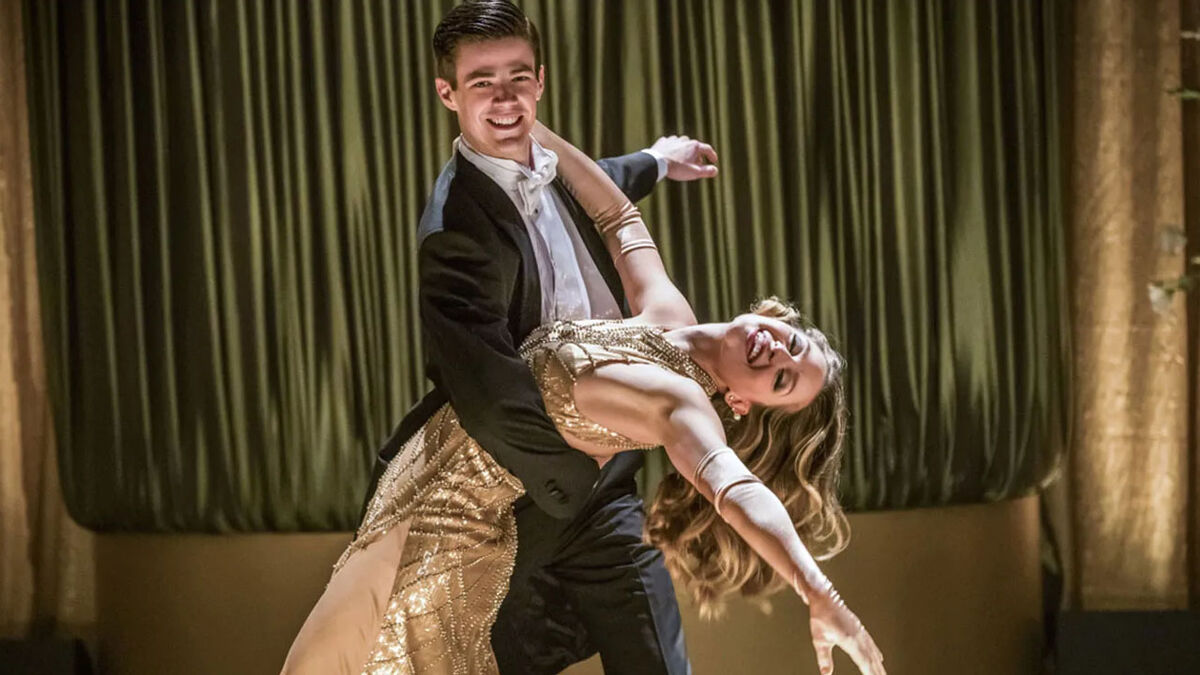 As mentioned above, Gustin and Benoist both were cast members on Glee, which was geared towards showing off their singing abilities. So perhaps it was inevitable that The Flash would get a musical episode, "Duet," guest starring Benoist's Kara, alongside yet another Glee veteran, Darren Criss, as the Music Meister, a villain who likes to make his victims sing.
The Supergirl episode, "Star-Crossed," briefly sets up the crossover when the Music Meister put Kara in a hypnotic coma that trapped her mind in an alternate world where she was a nightclub singer. Barry suffered the same fate in "Duet," and he joined Kara before they were warned by the Music Meister that they had to follow his script to escape. And if they died in this world, they would die in reality as well.
Barry and Kara encountered several familiar faces in this world who resembled their friends and family. But the Music Meister's real test forced them to confront their respective feelings for Iris (Candice Patton) and Mon-El (Chris Wood).
Crisis on Earth-X
While Invasion! was the first Arrowverse crossover to feature the characters from four different shows, Crisis on Earth-X took things to another level by running through episodes of Supergirl, Arrow, The Flash, and Legends of Tomorrow. It also marked the live-action debut of The Ray (Russell Tovey), who was previously introduced on the animated series, Freedom Fighters: The Ray.
At the long-delayed wedding of Barry and Iris, villains from Earth-X crashed the ceremony including Dark Arrow (Oliver's counterpart), Overgirl (Kara's counterpart), and Prometheus, an alternate version of Oliver's late friend, Tommy Meryln (Colin Donnell). In the multiverse, Earth-X is the world where the Nazis won World War II, and Dark Arrow ruled alongside his wife, Overgirl. Additionally, Barry's old enemy, Eobard Thawne, was working with these super Nazis as they attempted to steal Supergirl's heart so that they could save Overgirl's life.
Out of the four shows, this crossover had a more profound effect on Legends of Tomorrow, thanks to the death of one half of Firestorm, Martin Stein (Victor Garber), and the appearance of The Ray's boyfriend, Leo Snart (Wentworth Miller), who was a variant of their late teammate, Leonard Snart/Captain Cold. The crossover also ended with the double wedding of Barry and Iris and Oliver and Felicity, but it was kind of uncool of Team Arrow to steal Barry and Iris' thunder, so to speak.
Elseworlds
Compared to Crisis on Earth-X, Elseworlds was a rather compact three-episode crossover that set the stage for an even bigger event to come. When John Deegan (Jeremy Davies) got his hands on the Book of Destiny, his revisions to history led to Barry and Oliver literally living each other's lives. Even their closest friends and family didn't believe that anything had changed, which is why Barry and Oliver recruited Supergirl and her famous cousin, Superman (Tyler Hoechlin), for additional help.
This storyline also featured the introduction of Ruby Rose's Kate Kane before she headlined the first season of Batwoman on The CW. But an even bigger treat for old school fans was the return of John Wesley Shipp as Barry Allen from The Flash TV series that aired in 1990. Shipp had already appeared in the Arrowverse as Henry Allen and Jay Garrick, but this was the first time that he got to play his version of Barry opposite Gustin's Flash.
Shipp's Barry also carried a dire warning about The Monitor (LaMonica Garrett), an enigmatic alien who provided Deegan with the Book of Destiny. This paved the way for the Arrowverse's biggest event, Crisis on Infinite Earths.
Crisis on Infinite Earths
In retrospect, there was no way to capture the full grandeur of Marv Wolfman and artist George Perez's 1985 crossover epic, Crisis on Infinite Earths, on a TV budget, even with five episodes to play with. But the producers still managed the impressive feat of recruiting several stars from previous DC shows and movies to make cameo appearances, including Clark Kent (Tom Welling) and Lois Lane (Erica Durance) from Smallville, Lucifer Morningstar (Tom Ellis) from Lucifer, Helena Kyle (Ashley Scott) from Birds of Prey, Alexander Knox (Robert Wuhl) from Tim Burton's Batman, and even Burt Ward as a long-retired Dick Grayson from the world of Batman '66. However, it fell upon the Arrowverse heroes to prevent the complete destruction of the DC multiverse.
The most talked about cameo in the crossover was Ezra Miller's brief appearance as The Flash from the DC Extended Universe, and the interplay between Miller and Gustin's Barry Allens was so much fun that it was over far too quickly. This was also a complete surprise, as the creative team pulled off the Herculean feat of keeping Miller's appearance a secret. Almost all of the other cameos were officially announced or leaked ahead of time.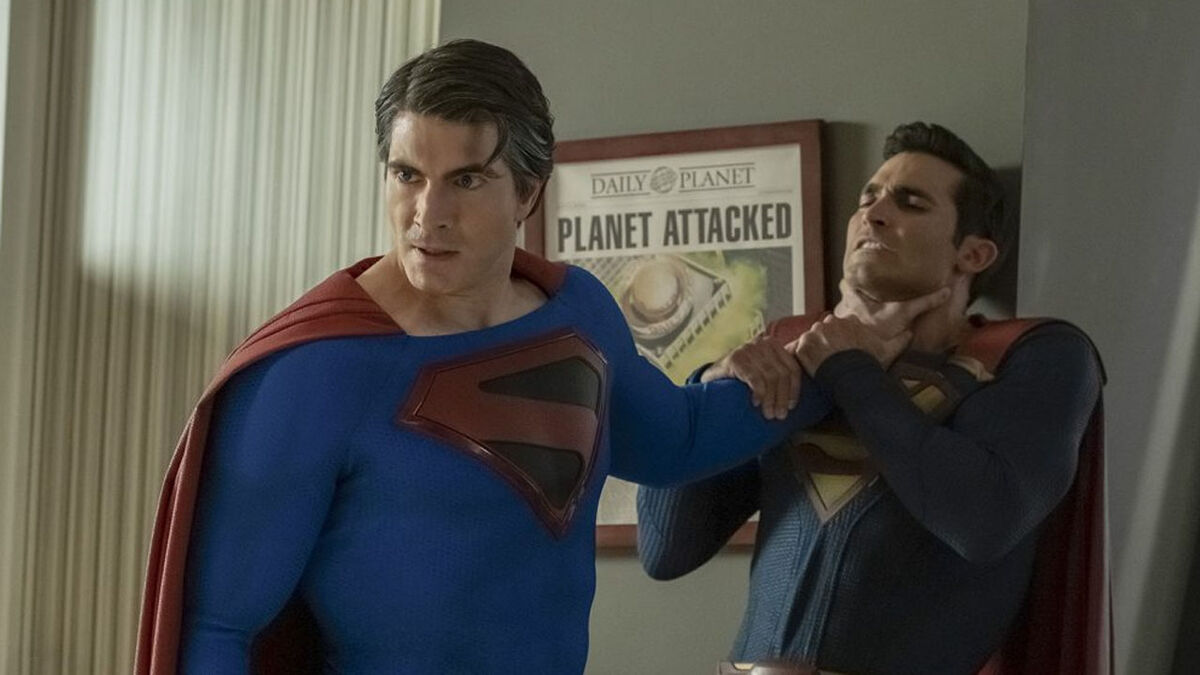 Superman Returns star Brandon Routh also got a chance to revisit his take on the Man of Steel after playing The Atom for years on Arrow and Legends of Tomorrow. Routh's Superman had a costume similar to the character's look in Kingdom Come, and a similar backstory where he lost his Lois and several of his closest friends to an attack by The Joker. Yet this Superman never lost his hope, and it was genuinely exciting to hear John Williams' "Superman March" theme as Routh's Superman put on his costume again.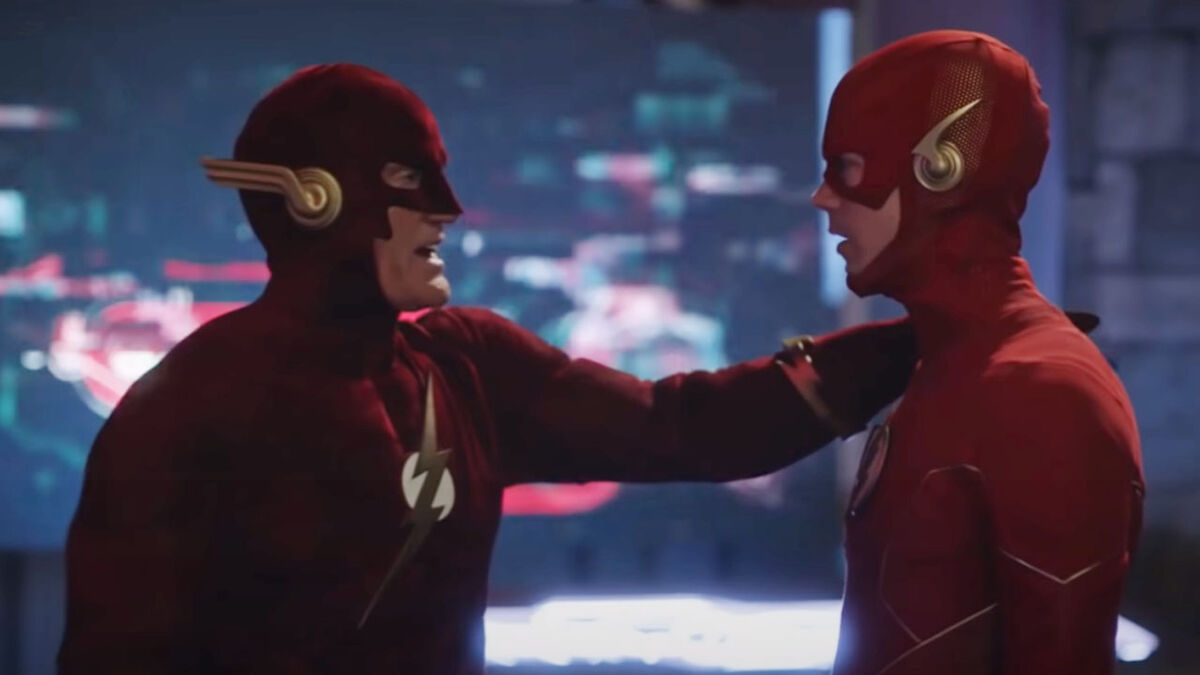 The Flash had been heading towards his death in the Crisis since the very first episode of the series. But he cheated fate thanks to his older counterpart, Barry (Shipp), who fulfilled the prophecy of The Flash's demise with some emotional callbacks to his time with the character. Oliver Queen was not as lucky, as he pulled off the rare trick of dying twice during the crossover. After Oliver's first death, he was reborn as The Spectre, but he gave his life once again for the sake of restoring the multiverse.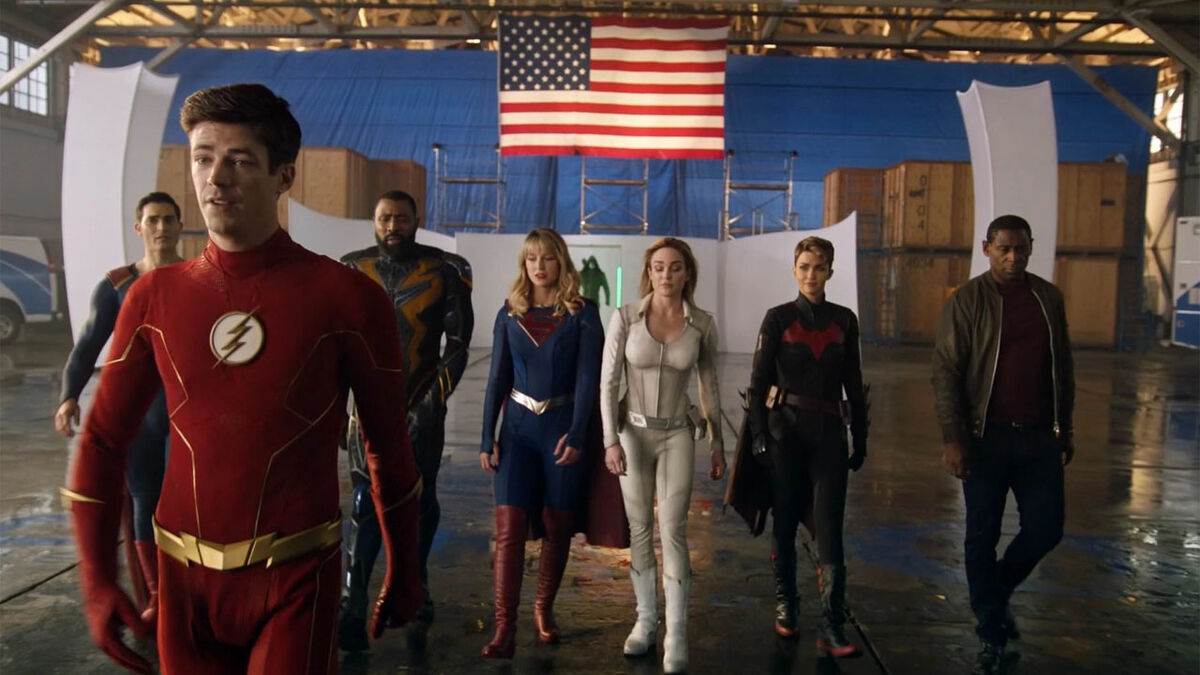 In the aftermath, several worlds were merged into the prime Arrowverse Earth, including the alternate Earths of Black Lightning and Supergirl. With most of the Arrowverse heroes finally on a single world, this allowed them form their own version of the Justice League. In many ways, the rest of the Arrowverse didn't live up to the promise of Crisis' finale. But it was a triumph for a superhero TV universe that has earned its place in the comic book pantheon.
We also asked the community at the Arrowverse Wiki their favorite moments and here are some of your choices!
"'Tricksters' is my favorite Flash episode. Frankly, I could say any moment with Mark Hamill as The Trickster, but it was that first episode that was really special." – J Fan
"Lena's speech against Reign when she was locked up within Sam. Just was giving complete chills." – Xandermcc
"The Legends vs. Zagurons and Bishop in the Season 6 finale." – Tommy,Klaus&Kol2012+
"Black Lightning 1×13: Jennifer restores Jefferson's powers. Inspiring moment after a nail biting lead up with the threat of the A.S.A." – GrandTemplar98
"Arrow in prison beating the hell out of everyone." – Vbmjkmc
"'My goals are beyond your understanding.' My favorite DC supervillain couldn't have been better adapted to the screen." – IlDottore0
"My favorite show was Legends of Tomorrow. Sara Lance, my favorite character. Love Avalance, 'Bullet Blondes.'" – 7Marie7
"The pilot episode of The Flash. Such a brilliant setup." – Multifander
---