Adventure-comedy Dungeons & Dragons: Honor Among Thieves rolled a natural 20 this weekend, landing a $38.5 million domestic opening (and $71.5 million total, worldwide). Starring Chris Pine, Michelle Rodriguez, Regé-Jean Page, and Justice Smith, this rollicking D&D blockbuster follows a bard/thief (Pine) and an exiled barbarian (Rodriguez) as they assemble a ragtag crew of underdog heroes in order to prevent a full necromancy apocalypse.
Before Honor Among Thieves' opening, even during the film's promotional campaign, the Forgotten Realms Wiki's pre-existing pages were at the top of the heap, given the depth of Dungeons & Dragons' history of world-building. But thanks to the movie being so well-received, and its dominance at the box office, several of its original characters have risen up in a big way.
Fandom readers became rabid about these new fun faces, helping the Forgotten Realms Wiki level up by 26% to 1.2 million pageviews over the film's release weekend.
Lore and More! 
With a movie based on a vast, expansive game like Dungeons and Dragons, complete with such a long-running mythos and so many campaigns to pull from, it makes sense that the top-searched pages within our Forgotten Realms catalog include a mix of old and new.
For example, new characters from the film such as Pine's Edgin, Rodriguez's Holga, and Sophia Lillis' Doric are mixed together with creatures and beings that have existed within D&D for ages.
Number one though is the massive, rotund dragon, Themberchaud. While his history goes back to the game, Themberchaud makes a very entertaining appearance in Honor Among Thieves, where his offbeat appearance is used to great effect in a film that frequently mixes comedy and exciting action in an impressive manner.
Then, coming in at number two, are the nasty, formidable Red Wizards of Thay, who also have a solid, stalwart place within Forgotten Realms lore. As does big boss Red Wizard Szass Tam, who places at number four, on the heals of his Palpatine-style role pulling the strings from afar in the film – underlining that the Red Wizards, who are very much pulled from D&D's storied past, were among the superstar pages over the past few days.
An extension of this is Red Wizard Sofina (played by Daisy Head), who serves as the movie's prominent on-screen villain, alongside Hugh Grant as Forge Fitzwilliam. Sofina stands out in the Top 10 as a character who is herself new but also tied to the legacy of the Red Magic Cult.
Other established pages that got a lot of attention as the film made its debut, either landing in the Top 10 or 20, are Displacer Beast (at 7), Thay (at 11), Harpers (at 13), Mind Flayer (at 16), Raven Queen (at 17), and Vecna (at 20).
When it comes the the Mind Flayer and Vecna, we of course have Stranger Things to thank for bringing them much further into the public consciousness, since the kids in that series name their interdimensional adversaries after D&D elements. Neither the Mind Flayer or Vecna actually appear in Honor Among Thieves but many wondered if they might beforehand (and how they'd compare to the Stranger versions if so), no doubt spurring some additional interest in their pages.
XenkMania's Running Wild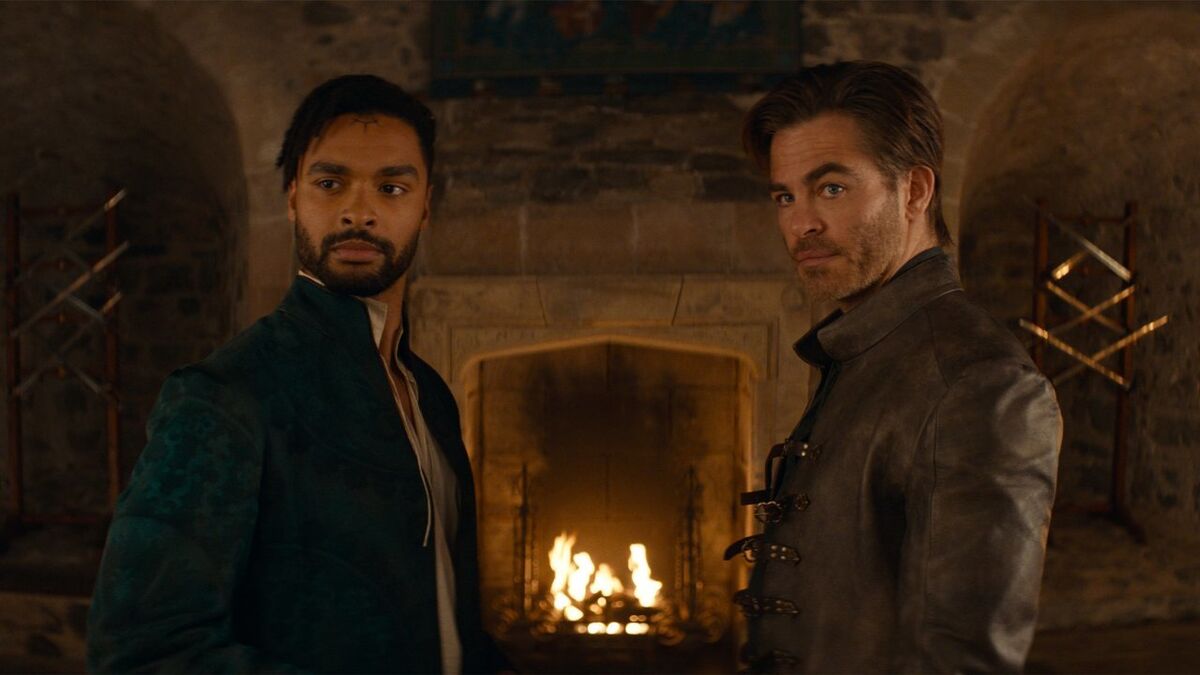 Obviously the cast of the film had strong showings too, with many of the new characters placing in the Top 10, though the notable win here is for Regé-Jean Page's Xenk, who was the most sought-after of them all, despite his character having the smallest role in the story amongst the main cast.
Edgin, Holga, Doric, and Justice Smith's Simon are all accounted for, of course, but the attention given to Xenk the Paladin deserves a call out. Could it be viewers' love of Bridgerton driving the Regé-Jean Page love? It was a star-making role, after all, when he played the Duke of Hastings in Season 1.
Perhaps some just liked him in the film and wanted to know more about him, while hoping he gets an expanded role if Honor Among Thieves gets a sequel. Regardless, it's amusing to see the most meager part among the leads taking the lead in pageviews.
Following Xenk, from a popularity standpoint, is Doric, the Druid played by It's Sophia Lillis, who uses her shapeshifting abilities to great effect in the film. She and Xenk were the two new characters to break into the Top 5, stealing a bit of the spotlight away from their teammates. Which is only fitting for a film about thieves.
---