The original Indiana Jones trilogy all took place in the 1930s, before Indiana Jones and the Kingdom of the Crystal Skull moved the story to the 1950s. But the new fifth film in the series, Indiana Jones and the Dial of Destiny, has the most dramatic shift yet, picking up with Indy in the urban hustle and bustle of 1969 New York – before he once more goes globetrotting – and giving us a look at this classic adventurer in a very different era and environment than we're used to.
The very famous man underneath Indy's hat, Harrison Ford, is adamant this will be his final performance as Indiana Jones, and discussing what it was like to portray this character not only in such a different era this time out, but a different state of mind, the beloved actor told Fandom, "That was my ambition. I wanted a character-driven story to be the last one that I make. And I wanted the audience to experience the character that results from the first four films."
As Ford explained, the Indiana Jones we meet when Dial of Destiny begins "is now past his prime in terms of physical prowess, intellectual energy, capacity, just generally in the world. And he's reached the end of his academic career. He's now teaching archaeology to disinterested students. He's finding that the world no longer cares about the things that he cared about. But circumstances prevail to push him into another adventure."
INDIANA JONES
AND THE PASSAGE OF TIME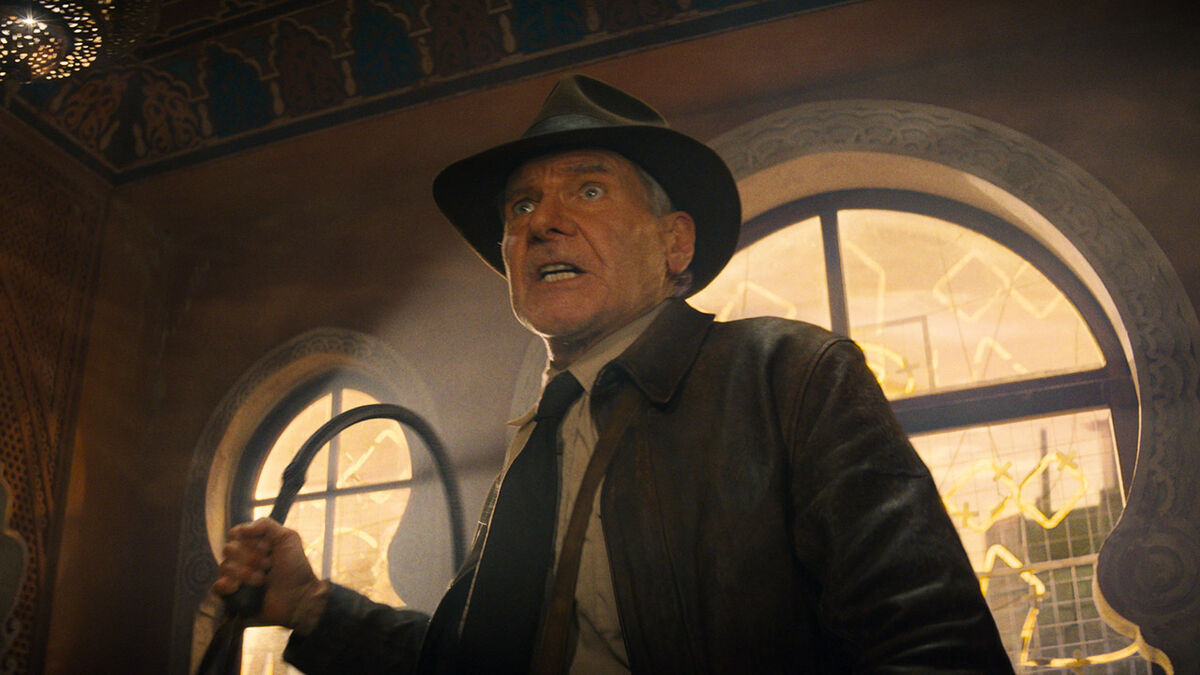 Dial of Destiny is notable behind the scenes, because Steven Spielberg, though back as Executive Producer alongside George Lucas, is not directing for the first time in the series, with James Mangold (Logan, Ford vs. Ferrari) taking over as both director and co-writer.
For Mangold, shaking up Indiana Jones from what we've seen before was keeping within the spirit of the series. As he observed to Fandom, "Every Indy movie changes the goalposts a little bit. Raiders of the Lost Ark – which is still to me the pinnacle and one of the greatest action adventure movies ever made – set a bar in place, and then from every movie… I mean, Temple of Doom is a very different tone. Steven and the writers on the picture, I think very intentionally, decided to take a different tact. And then Last Crusade is kind of both a romp like the first picture but has this whole aspect of unpacking Indy's past and childhood and things that are still carrying with him."
For Mangold, "The one dictum of these movies is to always be advancing the character and the world and changing with the times as they change, as well as trying to retain what we all love. Harrison is his age, I am this guy right now living in this time. If Indy's in his 70s then the movie is taking place in the late 60s. You can't write a movie that would take place in 1935 [set] in 1969. The world has changed all fully around him as well as his own capabilities and outlook on life because of where he's at."
Ford is now 80 years old and while Indy may be a few years younger than the actor, the character is also clearly not the man we first met, an aspect of the story Ford was eager to embrace. As Ford put it, "I wanted to see what the effects of age are upon a character like that, because that's one thing that you see more than anything else. You watch these films, five films, you're gonna see a person…" Finished Mangold "…Getting older!"
Added Ford, "That's the one consistent thing that we have to deal with. Let's deal with it with humor, with grace, with dignity. Let's not just discard this old coat but let's put it on one more time and see how it fits and make do with it."
INDIANA JONES
AND THE NAZIS HE PUNCHES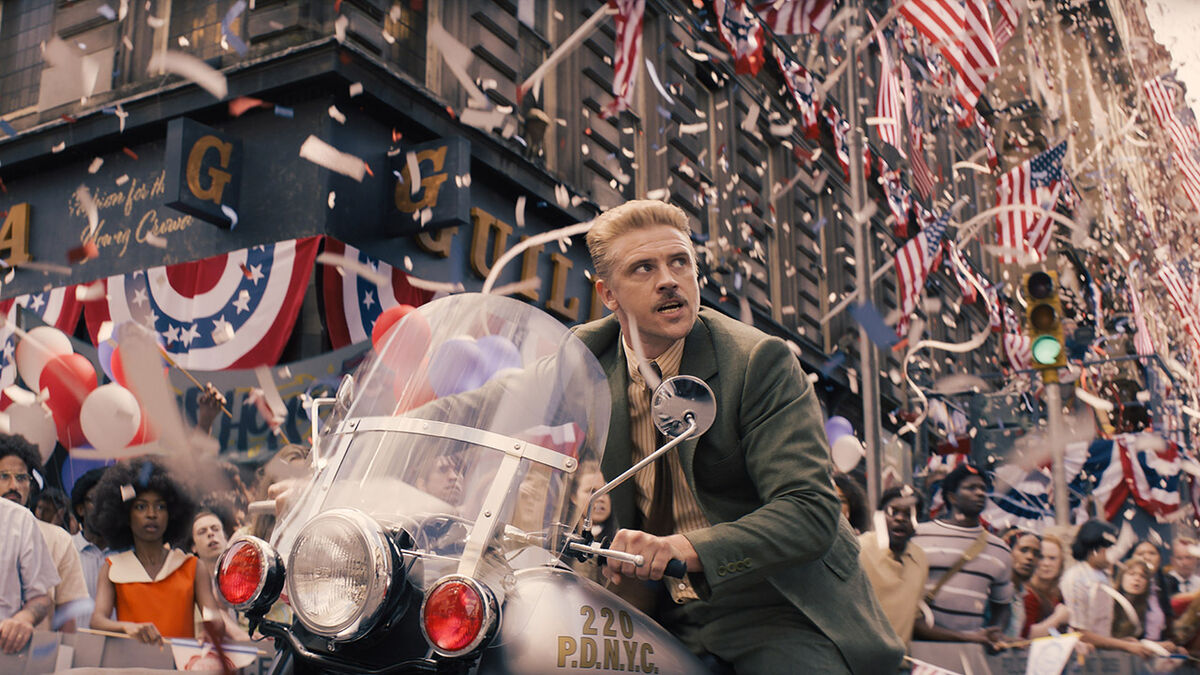 In the film, Indiana reunites with his goddaughter, Helena Shaw (Phoebe Waller-Bridge) in pursuit of the powerful Dial in the title. This leads to him facing off with an old Nazi foe, Jürgen Voller (Mads Mikkelsen), who has assembled a small group loyal to him that includes his right hand man, Klaber (Boyd Holbrook).
This is Holbrook's second time working with Mangold, having previously played another villain facing an aging hero, Donald Pierce, in Logan. Holbrook had high praise for his director and said he was key to Holbrook wanting to be in Dial of Destiny, remarking, "I would have probably not taken the film if Jim was not directing, if some other director was making it… I've worked with Jim before, and I know what he's capable of and so it's no-brainer for me to work with him. He's absolutely the person who's probably the most passionate filmmaker I've ever come across. And he's not going to let anything get away in any of the frame. He just strives for excellence. Jim's the best filmmaker we have going right now."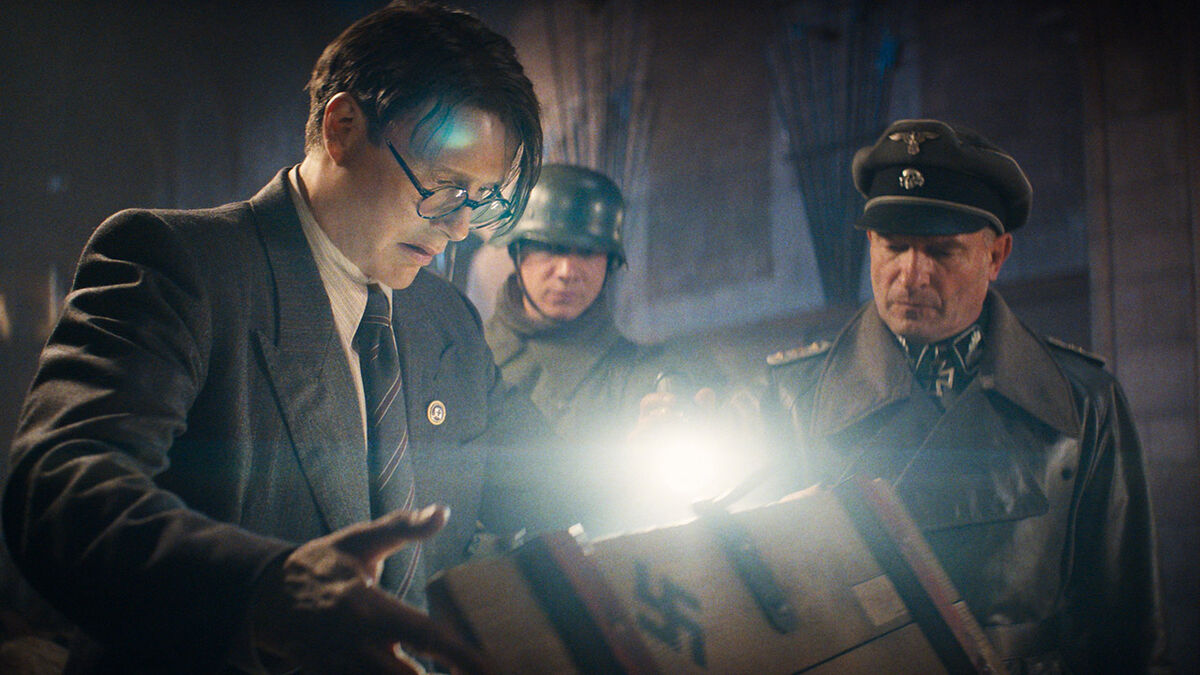 Dial of Destiny begins with an extended prologue set in 1944, in which deaging technology not only shows us Ford as a younger Indiana Jones in action onboard a Nazi train but also introduces Mikkelsen as a younger Voller. The idea is to show us a classic Indy-style adventure, before we catch up with him decades later, and Mikkelsen said it was a thrill to get to take part in it. "I think that was my first day of shooting. We had that train. We had 500 extras… And then we had Indy stepping in front of the camera with his hat. So yeah, that felt like a real good start!"
INDIANA JONES
AND THE ICON WHO PLAYS HIM
The Dial of Destiny cast are all professionals who have worked with big names before and obviously Mikkelsen is a pop culture standout himself at this point, having appeared in the James Bond, Star Wars, MCU, and Wizarding World franchises, not to mention playing Hannibal Lecter. Still, there are few combinations of an iconic star with an iconic character as notable as Harriison Ford as Indiana Jones. So what was it like to be playing scenes with that man in that role?
Said Holbrook, "I forgot my lines once! I had one line to button the scene up and I just kind of got lost between Mads' and Harrison's performance and everyone's looking at me. 'Oh, right, I'm supposed to be talking.'"
Shaunette Renée Wilson, who plays CIA agent Mason, said that as surreal as it could be to work with Ford as Indiana, Ford's real life persona made it easier, explaining, "He's just so relatable. He definitely looks at you as a colleague, even though you yourself are realizing the gravity of the moment. He's just another fellow actor with a passion and a love for the craft. So I think that normalizes the experience in a wonderful way."
Mikkelsen agreed with Wilson, replying, "Yeah, he's fantastic at doing that; making everybody feel comfortable in the room. So sometimes you realize… You go home [and think] yeah, you worked different scenes, but you were also stuck in a car with Harrison Ford. And you were just shooting anecdotes for five hours, which is like, okay… that's a nice story!"
Indiana Jones and the Dial of Destiny opens June 30 in theaters.
---