Before visionary director Masaaki Yuasa's trippy, devastating anime adaptation arrived, Inu-Oh was a book by celebrated Japanese novelist Hideo Furukawa. Its full title is Tales of the Heike: Inu-Oh. Set in 14th century Japan, it tells the story of the friendship that develops between visually-impaired biwa player Tomona and Inu-Oh, a Noh dancer born with disabilities and who wears a mask to conceal his disfigured face. The story focuses on revealing hidden truths and the idea that history has multiple sides that we don't always hear.
Occultism and Hair Metal
"What attracted me [to the project] was that it's a period drama, but it was different from what I knew or would imagine," says Yuasa, co-founder of Japanese animation studio Science SARU (responsible for episodes of Adventure Time and Star Wars: Visions), who's chatting with Fandom over Zoom. Yuasa is also known for directing acclaimed series Devilman Crybaby, Keep Your Hands Off Eizouken!, and Japan Sinks: 2020.
"There's a kind of mystic, occult even, feel to it. The character Inu-Oh is hugely positive — he's in this really hard situation, but he is determined and he realizes his dreams at the end, and I wanted to depict him in my animation."
The film knits together psychedelic sequences with graphic scenes of violence and an immersive animation style. At every turn, it's surprising but perhaps none more so than in its use of contemporary music. The last thing you might expect from a medieval Muromachi-period anime is an injection of hair metal. But a dose of hard rockin' is exactly what you get.
"The genre, I thought, is just suitable for the characters," explains Yuasa of his decision. "They want to be free from their destiny and it's about rebellion. So I thought that the music is just perfect."
Telling Story Through Song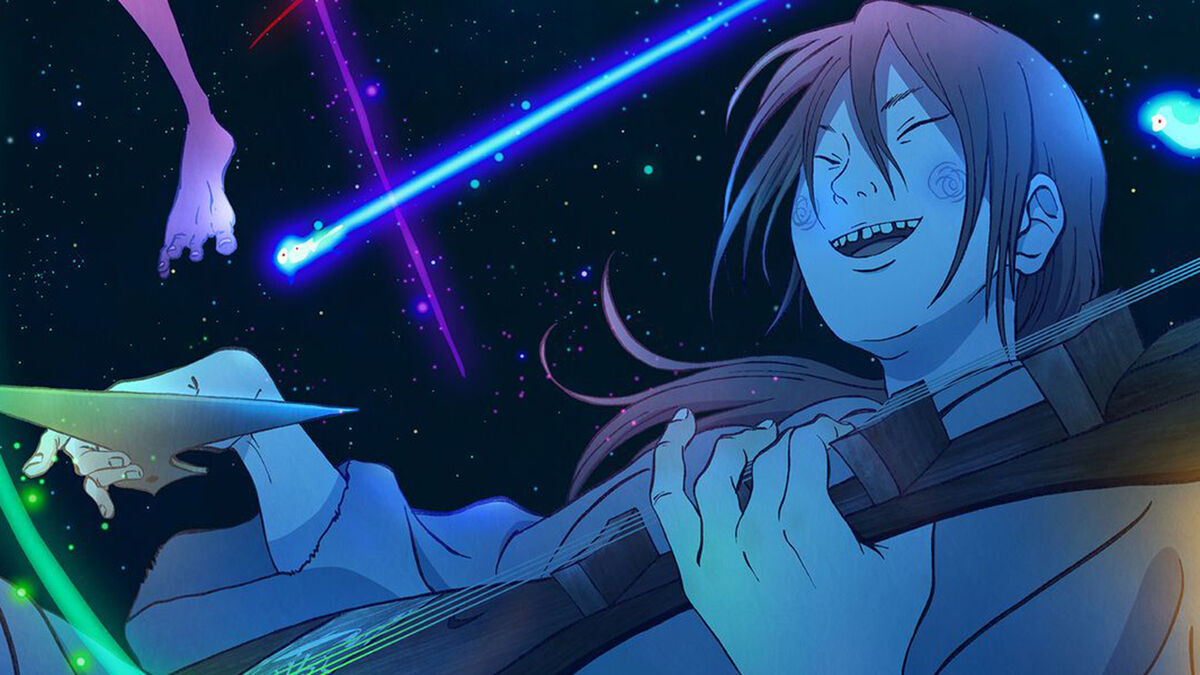 The music, or songs to be precise, was the aspect of the film Yuasa found most difficult.
"How to fit these songs, [and their] lyrics into the story and where I place them, how I place them, that was very challenging," says Yuasa.
Around 35 minutes into Inu-Oh, the songs start and the music doesn't really let up. The result is an entertaining and fun — and yet at the same time, shattering — experience as Inu-Oh and Tomona, through their performances, interpret the buried stories of dead Heike soldier spirits killed in battle at the hands of the Genji clan.
"I wanted to do the storytelling through the lyrics so that's what makes this film different from traditional musicals. I wanted to tell the story with songs and the lyrics," says Yuasa.
A kind of rock opera anime, Yuasa's approach to Inu-Oh is a really powerful way to explore the idea of oppression and the importance of understanding that history has two or more sides. Through the songs, Inu-Oh and Tomona – who at this point in the story has changed his name to Tomoari – are contradicting the preferred account of history as told and enforced by ruling military dictator, or shogun, Ashikaga Yoshimitsu.
Giving the People a Voice
"I'm sure there are many more sides that we probably can't even imagine," says Yuasa. "Now that we've got the internet, we get so much information about everything. But I'm sure people weren't that different even then. We only know what we know … but I think it's only a small, tiny part of time — 600 years ago. So I believe the world was pretty much similar to what it is now. I am giving voice to these people, or the sides that we don't see now, but had to exist back then."
Another key point Inu-Oh makes is that art is really significant in terms of promoting freedom of expression and amplifying a wide variety of voices to understand truth. Inu-Oh and Tomona's act becomes incredibly popular, engaging the common people who connect with their art and absorb their stories and messages.
"Yes, [art] is very important as a means of communication for everyone," says Yuasa. "When you say 'art', sometimes I think 'art' sounds a bit snobbish, but it's not. It's not [only] for certain people, art is for — should be for — everyone. I think art has a great way to communicate with a lot of people and it should be that way."
Never Give Up
The characters of Inu-Oh and Tomona also spread another complimentary message, which is that as two marginalized characters, they are full of drive and enthusiasm and a positive spirit that urges us all to keep going in the face of apparent hopelessness.
"They both face so many challenges and I think that's something anybody can relate to," says Yuasa. "But they are not beaten. They never give up. Especially Inu-Oh, and I think that's really encouraging to many people."
In the story, Inu-Oh is a chosen name, and Tomona changes his name to first Tomoichi, then Tomoari, before changing back to Tomona. Yuasa explains the significance.
"That was custom in Japan, especially amongst samurai," begins Yuasa. "So you've got your given name. And also you've got this name that people call you. You're not really supposed to say if they ask you your name what your name is. You wouldn't say your given name, you just give the name that you're being called. And also, it's to do with promotion. So when you go up a rank, somebody will give you a new name. So it's about promotion as well, and that that actually comes up in the original book."
What's In a Name?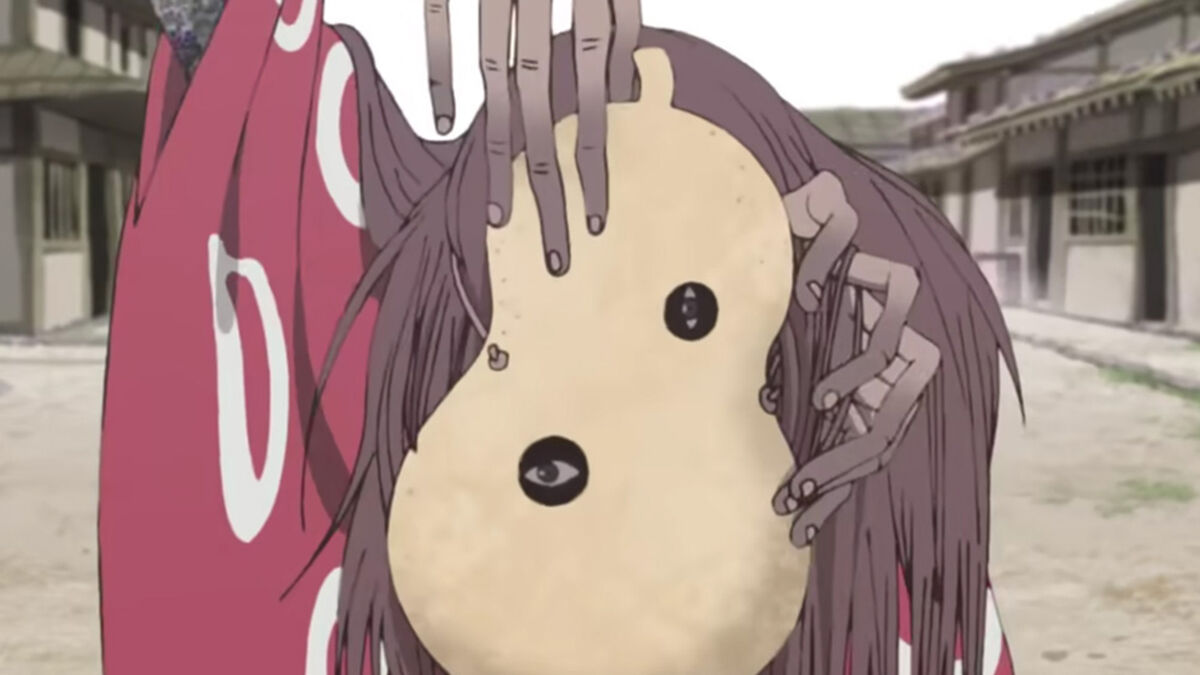 Yuasa continues, "But we wanted to explore a little bit more. So when I was working with Akiko Nogi on the script, we wanted to make it as a sort of symbol, if you like. So the name is the lifestyle that you want to live: [as if you're saying] 'So this is my next step; this is the direction that I'm going in, so this is the name I'm going to address myself [as], or I'm going to give myself. It started with this custom that they had way back when but [which] I explored more. Inu-Oh decided, 'Right, this is the life I'm going to live'. So he decided to name himself [to send the message] 'This is what I am now; who I am now'. And Tomona has this given name originally but he changed it … he made his own life."
At the end of the film, Tomona adopts his given name once again, and you can also read this symbolically. There is more than one way to look at it, but without spoiling the ending of the film, could it mean that Tomona in particular is destined to repeat his journey?
"That's for everyone to think about," says Yuasa. "But what I can say is as the audience we look at how [Inu-Oh and Tomona] lived their lives and I think that's what matters to them. I think that's how they lived, and it's up to them what happens next."
Masaaki Yuasa's ending might be enigmatic but leaving things open to interpretation is a strength of some of the best and most impactful art, and Inu-Oh is a work that confounds expectations and will surely stay with you to ruminate on long after the end credits have scrolled.
Catch Inu-Oh in theatres now.
---
For more anime insight, check out our interview with Goodbye, Don Glees! director Atsuko Ishizuka below: