The Mandalorian has returned for Season 3 and while Din Djarin and Grogu remain centerstage, there is also a notably larger role this season for Bo-Katan Kryze (Katee Sackhoff).
While both are Mandalorians, the relationship between Bo-Katan and Din Djarin is decidedly complicated. They have worked together as allies, while having very different ideas about what a "true" Mandalorian is meant to be, including her not believing she needs to wear her helmet at all times. But it's the Darksaber, who wields it, and how they go about doing so, that now looks to be the greatest source of friction between the two.
I spoke to Sackhoff and The Mandalorian Executive Producer / Director Rick Famuyiwa about Bo-Katan's current state of mind, the deep history of the character, and parts of the character's life Sackhoff would like to explore further, including her being an ally of a certain famous Jedi.
BO AND DIN'S BOGUS JOURNEY?
There is no greater symbol for Bo-Katan's triumph and tragedy than the Darksaber, a weapon she once wielded as the leader of Mandalore only to lose it to Moff Gideon (in a battle we have yet to learn the details of). However, some Mandalore like Din Djarin's own Tribe believe the fact that Bo-Katan was gifted the Darksaber by Sabine Wren, rather than winning it in combat as is tradition, put a curse on their people, leading to the horrific events of the Great Purge of Mandalore.
Now Din Djarin has the Darksaber and, not wishing to repeat the past, Bo-Katan has refused it when he tried to give it to her, believing she must now abide by tradition to once again be its owner. Which of course would mean she must fight Din Djarin.
So where does that leave Bo-Katan in terms of her feelings about Din Djarin? Said Sackhoff, "I think at this point, he's really just a thorn in her side. He has what she wants and there's only one way to get it. I think that is the only thing she's thinking about. She has nothing left, she has no home, she has no family, she's doesn't have the Darksaber. Without the Darksaber, she can't rule. That's all she's wanted, because she thought that's what would bring her people together. I think that she's in a really dark place. And he represents that."
Rick Famuyiwa, said, with a chuckle, that it's true Bo-Katan isn't in the best place, "which is great for us as filmmakers, because that's always where you want your characters to be." He added, "Bo has had a certain idea about who she is and her leadership and what that is and a certain plan that she thought was going to come to effect that she would be a part of. Obviously coming in contact with Din Djarin changed that and not having the Darksaber changes that. So I think, for her, it becomes about a redefinition of what that means to be a leader, to be a Mandalorian."
THE CORE OF THE MANDALORIAN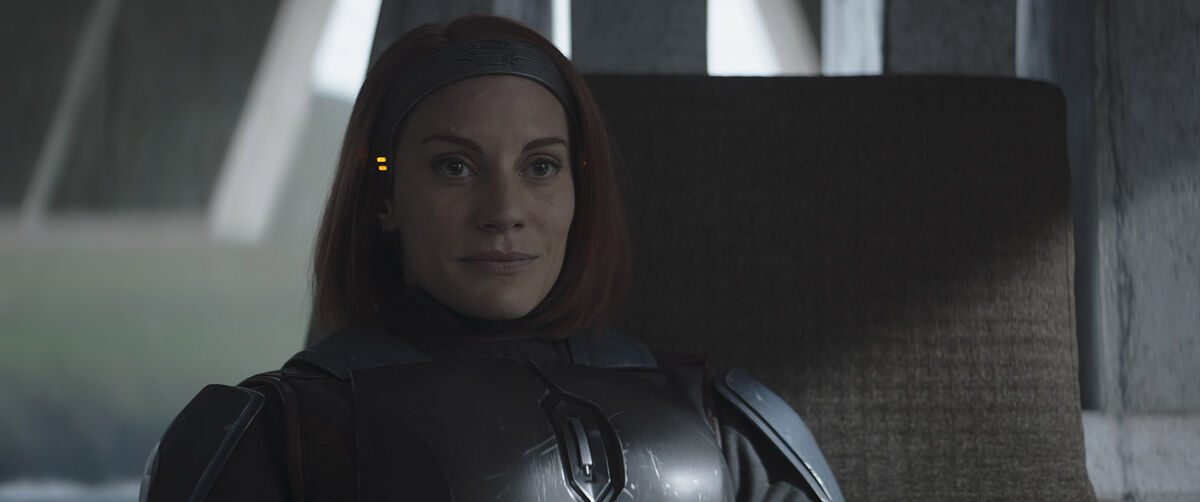 Regarding the different viewpoints Bo-Katan and Din Djarin and their respective sects have had about being a Mandalorian, Sackhoff observed, "They all follow The Way. It's sort of one of those things where everybody has the same text, everybody read the same thing, we just interpreted it differently."
Famuyiwa noted that even as Din Djarin tries to make up to his Tribe for his supposed sin of removing his helmet around others, he's been affected by his encounters with others, noting, "He's seen other Mandalorians, which has expanded his idea of what what this meant, including when he met Bo-Katan specifically. And so I think a lot of those ideas continue to be explored."
He added that he felt the biggest part of what Season 3 is is focusing on figuring out "Truly a definition of the title of the show, The Mandalorian. What that means both individually for Din Djarin but really what it means collectively as a people with so many different views on what that is."
A BUSY LIFE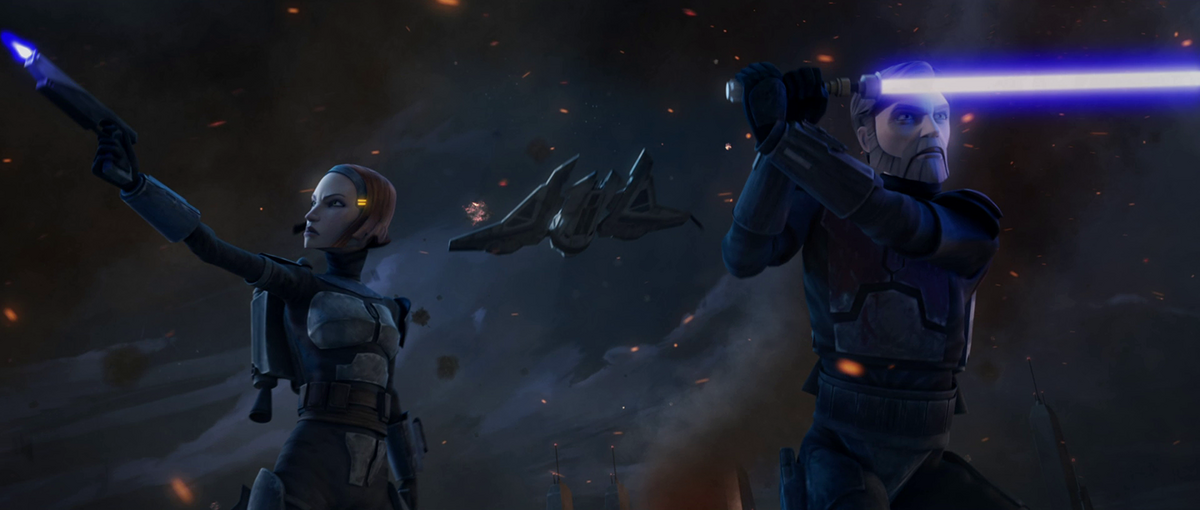 Sackhoff has now had a notably impressive run as Bo-Katan which has covered three different TV series she's participated in over more than a decade both as a voice actor and now onscreen as well – while covering about 25 years of the character's life, from her introduction in animation on Star Wars: The Clone Wars, to her appearances in Star Wars Rebels during the time of the Empire, to finally playing the character in live-action in a post-Empire / New Republic galaxy on The Mandalorian.
Asked if it's tricky to get her mind around everything the character has gone through, she replied, "It is and then I just talk to Dave [Filoni] and it's fine. One of the things that I love more than anything is picking his brain about her and the universe and things that have happened that we may not have seen as viewers and I just love it. She's grown so much in the course of her life and changed, as you would hope anyone would have over 25 years." That being said, Sackhoff remarked, "She's still got a lot to get through and a lot more growth to actually achieve before she could even hope to accomplish any of her goals."
Even with all the Bo-Katan stories she'd been abel to tell, Sackhhoff said she's still excited to see what's to come or what else could be explored, noting, "think that there there's so much in Bo's backstory that is still existing in a timeline that's playing right now." Sackhoff brought up another Star Wars character we've seen on a Disney+ series lately, remarking, "We know she knew Obi-Wan. We know that they had contact and that is a world that she could potentially exist in…"
While there's been no announcement of Ewan McGregor returning for another Obi-Wan Kenobi season, it's certainly intriguing to ponder the idea of seeing him reunite with his old The Clone Wars-era ally, Bo-Katan, particularly given their shared connection due to her late sister, Satine.
Added Sackhoff, "There are places that she could actually go still and we know that Dave and Jon [Favreau] and everybody else is taking it very seriously. When one production does one thing, they make sure moving forward that it works for the rest of the productions because it is this overarching thing where they want that symbiosis between all of them. They want everything to be able to go together and they take it very seriously."
New episodes of The Mandalorian debut Wednesdays on Disney+.
---