Mario fans, get ready to double-jump for joy—and maybe throw a wahoo! in there for good measure. Super Nintendo World at Universal Studios Hollywood is nearly ready to open its pipes/doors to new players. Er, visitors.
Join the denizens of the Mushroom Kingdom in an animatronic-filled, immersive experience that drops visitors right in the middle of a real-life video game, complete with mini games, easter eggs… and even a boss battle (for those brave enough to face it). Guests of all ages can join in the fun as Princess Peach tasks them with an important mission: reclaim her stolen Golden Mushroom from Bowser Jr.
(Note: Based on my experiences in Mario Party, there seem to be a lot of Golden Mushrooms hanging around the Mushroom Kingdom, so why Peach can't share is beyond me. But who am I to question royalty? Let's get that mushroom!) 
Bowser's bouncing baby boy has taken the Mushroom to his castle; if visitors hope to get it back, they must pass three of the four "Key Challenges" around the land—mini games to tackle solo or with a group of friends. (We recommend enlisting a pal or two. These keys can be pretty tricky!)
Looking for a bigger gaming experience? Mario Kart: Bowser's Challenge puts visitors in the driver's seat of their own AR racing experience. "We actually developed our own AR goggles," said vice president of Universal Creative, Jon Corfino. "Universal created and developed this whole system, which is really an incredible achievement… The real creative craft of what we're doing here is that it is actually a moving ride, and you will go through a series of environments where there is video mapping. There's LED screens, there's physical animations, there's special effects, and there's your AR goggles. And how you seamlessly blend all that together to make it look like it all goes away and becomes one thing is really the art of the whole thing. It's very, very cool."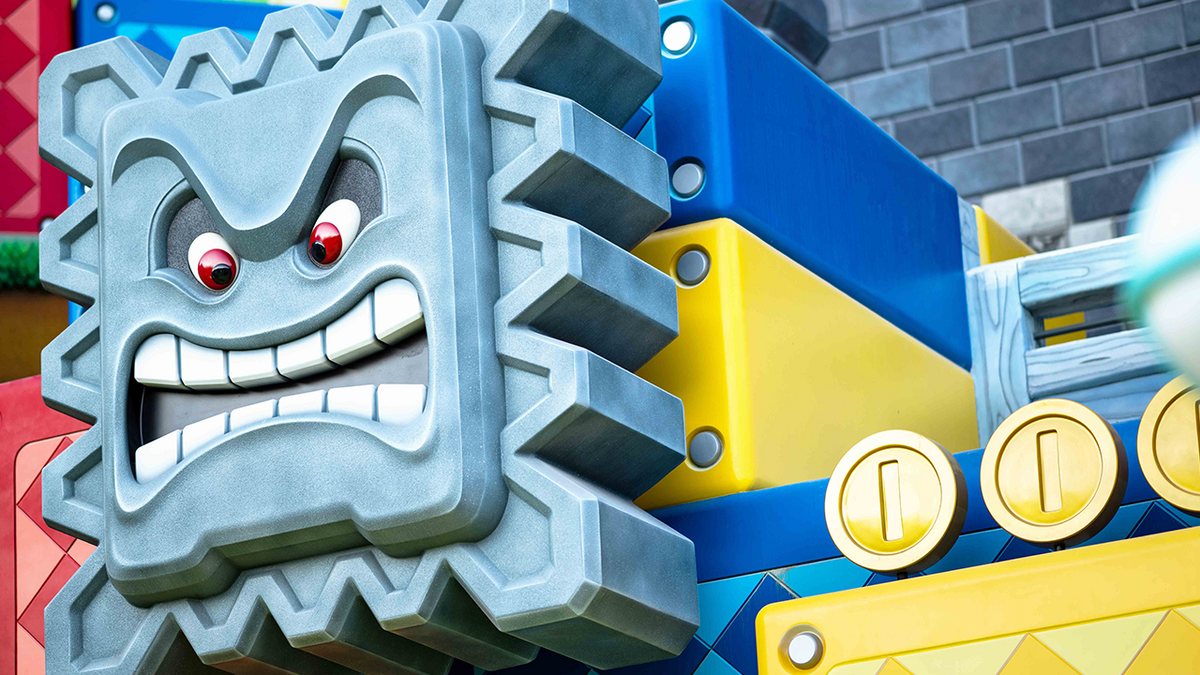 The park will be selling Mario-branded Power Up Bands for those visitors who'd like to save their progress, earn "coins," and interact with fun hidden experiences. Power Up Band users will be able to access their point scores through the official Universal app. The Bands can be purchased in park stores or at specialized vending machines and will cost $40.
All that adventure is sure to get any gamer's appetite going. Fortunately, park visitors can stop in at the Toadstool Cafe, a mushroom-shaped counter service restaurant with immersive theming and delicious eats like Toadstool Cheesy Garlic Knots, Power Up Spaghetti Marinara, and ? Block Tiramisu. Diners can chow down while watching Toads hard at work in the kitchen thanks to video screens showing their every move. "Everything has mushrooms in it… in a good way!" said Corfino, ominously. He may have been joking. We'll find out soon enough.
Above all, Corfino is thrilled to have guests experience the fruits of what has clearly been a labor of love for the team at Universal Creative. "The partnership with Nintendo was absolutely fantastic," said Corfino. "[Shigeru] Miyamoto was part of this every step of the way. It's really been a pleasure. I've been working on this project for about five or six years now, and he goes way back to the very beginning along with the folks at the creative studio and everybody else that's helped to develop and design this. It's just been a tremendous collaborative project."
Super Nintendo World is scheduled to open on Jan. 29, 2023 for Annual Passholders and on Feb. 17, 2023 for all guests at Universal Studios Hollywood. For additional information and to purchase advance tickets, be sure to visit Universal Studios' official website.