Toy Story Land opened at Disney's Hollywood Studios at Walt Disney World in 2018 and while guests have enjoyed the attractions and character interactions, a couple of recurring complaints have been that there is very little shade to keep the often oppressive Orlando sun at bay and that there was no table service restaurant, with only the walk up, outdoor Woody's Lunch Box available as far as dining options.
That being the case, there is cause to celebrate on both fronts with the opening of Roundup Rodeo BBQ Restaurant. A few days before its official opening, Fandom paid a visit to Roundup Rodeo to see (and sample) what's in store for guests.
ANDY'S WORLD
Located right near the front of Toy Story Land – in fact, it's one of the first things you encounter once you walk past the giant figure of Woody at the start of the land – Roundup Rodeo continues the theming of the entire land, which operates from the idea that you are at the same scale as the toys, and that pretty much everything you're seeing is part of Andy's collection.
Disney Imagineer Ben van Beusekom explained that for Roundup Rodeo, they actually took inspiration from a specific plot point from Toy Story 2, noting, "We really wanted to focus on the idea that Andy went to cowboy camp. And so that kind of drove the idea of the rodeo."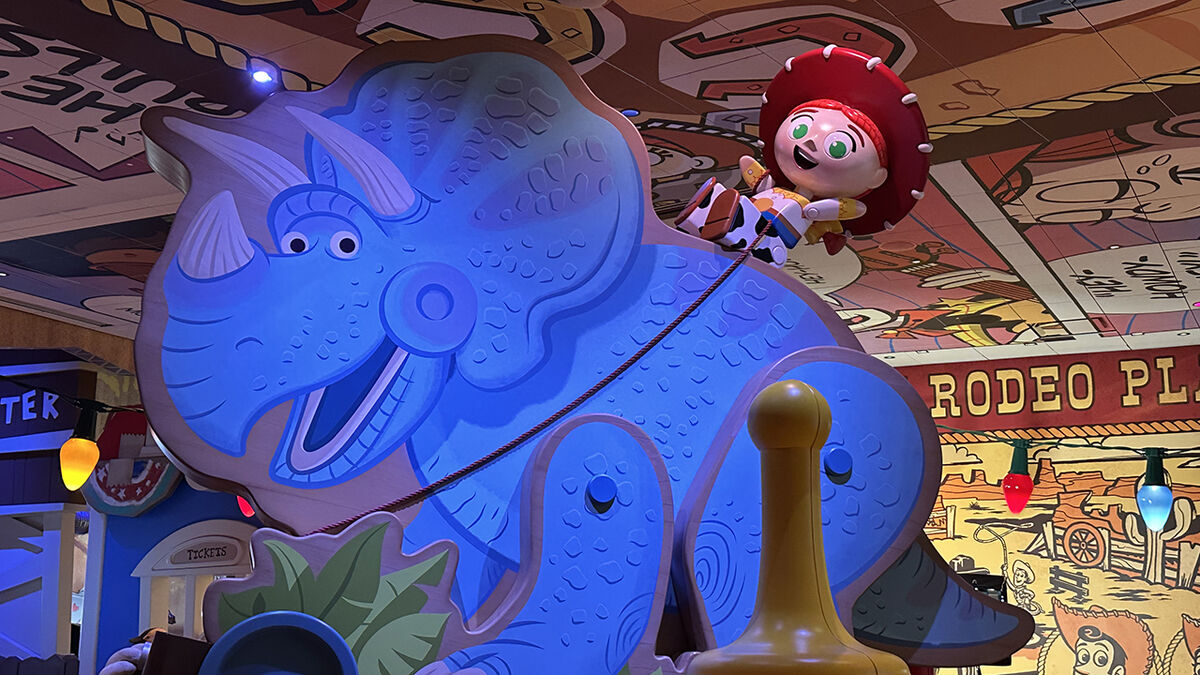 Since the restaurant is meant to look like these are scenarios Andy has set up himself, van Beusekom added that on the design side, "We started with cardboard boxes, and playsets, and school supplies, game boards, all those things that a kid would grab from their room, because they're not going to be methodical, necessarily. They're just going to grab what they're going to grab and Andy has assembled them all in such a fun way to feel very spontaneous and fresh. And he's used lots of layers with crayon on the walls to draw and his boxes from his toys and game pieces from his game sets to create his rodeo fans."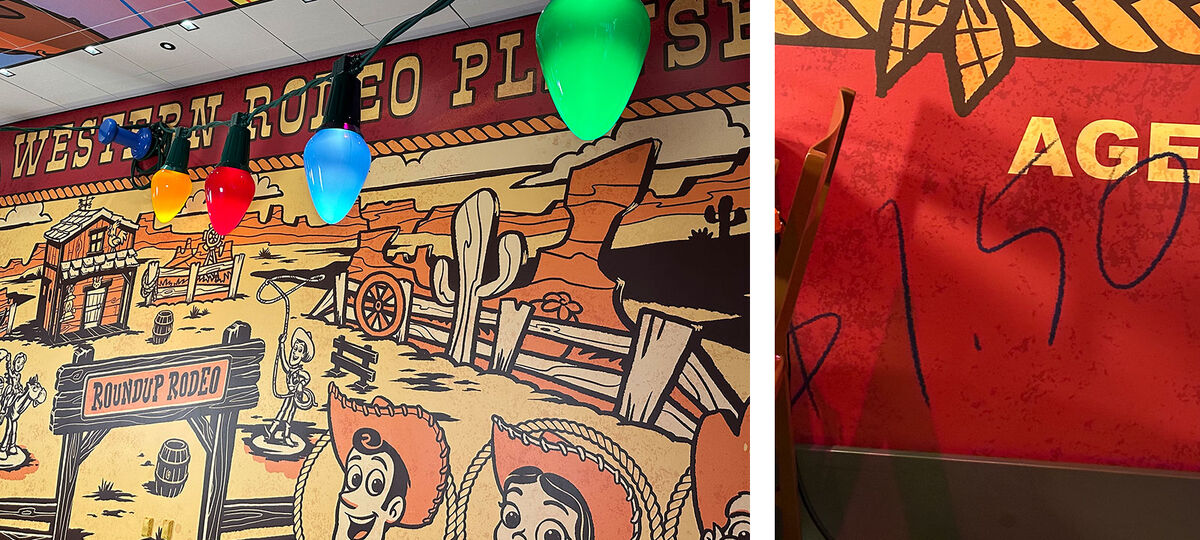 There are a lot of fun touches you'll find if you walk through the restaurant that add to the lived-in feel of it. One personal favorite was the Western Rodeo Playset box art on one of the walls, where visible in the corner is a handwritten "$1.50" (seen above), indicating this playset got resold at something like a yard sale or swap meet at one point.
Interestingly, van Beusekom noted that they felt that the confined space of the restaurant allowed them to actually include more elements of the "Andy pouring out his toy box" approach than the rest of Toy Story Land often does, explaining, "You have the ability when you're in an enclosed restaurant or enclosed space like this to be able to do more of that. In the land, you've got your pathways and stuff, you have some more restrictions. Here, you have the ability to create a more intimate space that really kind of gives you that sense of scale and makes you feel more like a toy and more immersed into Andy's world."
FOOD FIT FOR A TOY (BUT HUMANS TOO)
As the full name tells you, BBQ is the focus at Roundup Rodeo, or what Culinary Director Brian Piasecki referred to as "barbecue inspired comfort food served family style." The names of the dishes are almost all inspired by Toy Story characters or phrases, like Rootin' Tootin' Tomato Salad, Wheezy's Watermelon Salad, There's a Sausage in My Boot, and Bo's Lemon and Blueberry Cheesecake.
Piasecki noted that even as he was developing the food concepts, there were weekly check-ins with Imagineering. " We were working with them so that we were understanding the story, understanding all the components inside the restaurant, which really helped us build the menu."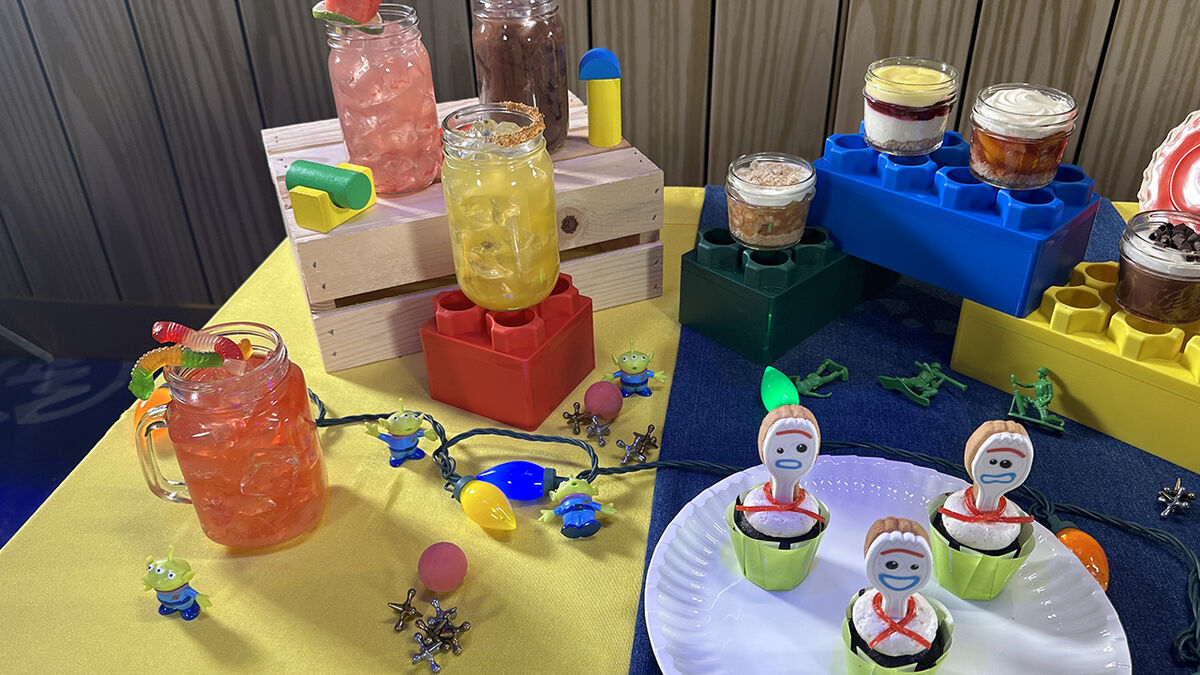 At one point, as I was speaking to Piasecki and Beverage Director Stephanie Dolk, a voice could be heard throughout the restaurant bellowing "Partysaurus Rex!" followed by music, one of several moments where you hear characters from the Toy Story films and shorts speaking – including warnings to prepare for the arrival of Andy or an impending yard sale.
Dold noted that Partysaurus Rex soundbite was tied to a drink on the menu, all of which came about because of her love of the Partysaurus Rex short, explaining, "In our weekly sessions, when we sit down with Imagineering, we talk about what inspires us. And so one thing that hit very close to home [for me] is Partysaurus Rex on Disney+. I knew that I wanted to have that incorporated into the beverage program." Hence, the Partysaurus Tex drink, a mixture of lemonade and strawberry puree that is likely to be quite popular with kids thanks to it being garnished with gummy candy (okay, I wanted to try one too, but sadly it wasn't available during the media event).
The food I did sample was quite tasty though. The salads and Evil Dr. Smoked Ribs were good, but my personal favorite amongst the food I tried was the delicious Buttercup's Beef Brisket. Apparently that unicorn knows how to make dang good brisket! Also a highlight were the Prospector's Homemade Cheddar Biscuits, which are especially strong when paired with the sweet pepper jelly they are served with. There are also planet-based options, including a bratwurst and rib chop, which received high marks from colleagues of mine who tried them.
ADDING TO THE STORY LORE-Y
All aspects of Disney Parks are viewed through a story lens, from coasters to dark rides to a restaurant like Roundup Rodeo BBQ, which is essentially adding to the universe of the film as far as how it's approached conceptually. van Beusekom remarked, "We've worked so closely with Pixar, and so closely with the whole Toy Story franchise, to understand how all those beloved characters really are and their personalities. That really is a very strong guidance or guardrail to us on how we design as Imagineers and how we are thoughtful in how we design, because it's very important to us to really convey those personalities through what we put out for our guests."
van Beusekom noted that Toy Story Land in general mainly focused on Toy Story 1 and 2, but that they did put some elements from the later films inside Roundup Rodeo, saying, "You will see some beloved characters such as Buttercup and you'll see Forky and whatnot in a few small areas, very thoughtfully introduced in a very quiet manner. In a way that is something that we here at Imagineering feel like we can do in an environment like this, in a restaurant, that isn't overwhelming but still adds to the story and helps us expand on to the Toy Story stories and the Andy's backyard [element]."
When it comes to Disney Imagineers and what they do, many people immediately think of them designing the rides, even though they are involved in so many other aspects of Disney Parks. Said van Beusekom, "We live in a world of storytelling here. And that storytelling is everything we do from the hotels that our guests stay in to the transportation that they ride in to get from our hotels to our parks and everything else. So you can't leave any stone unturned, because an immersive experience is just that. Immersive."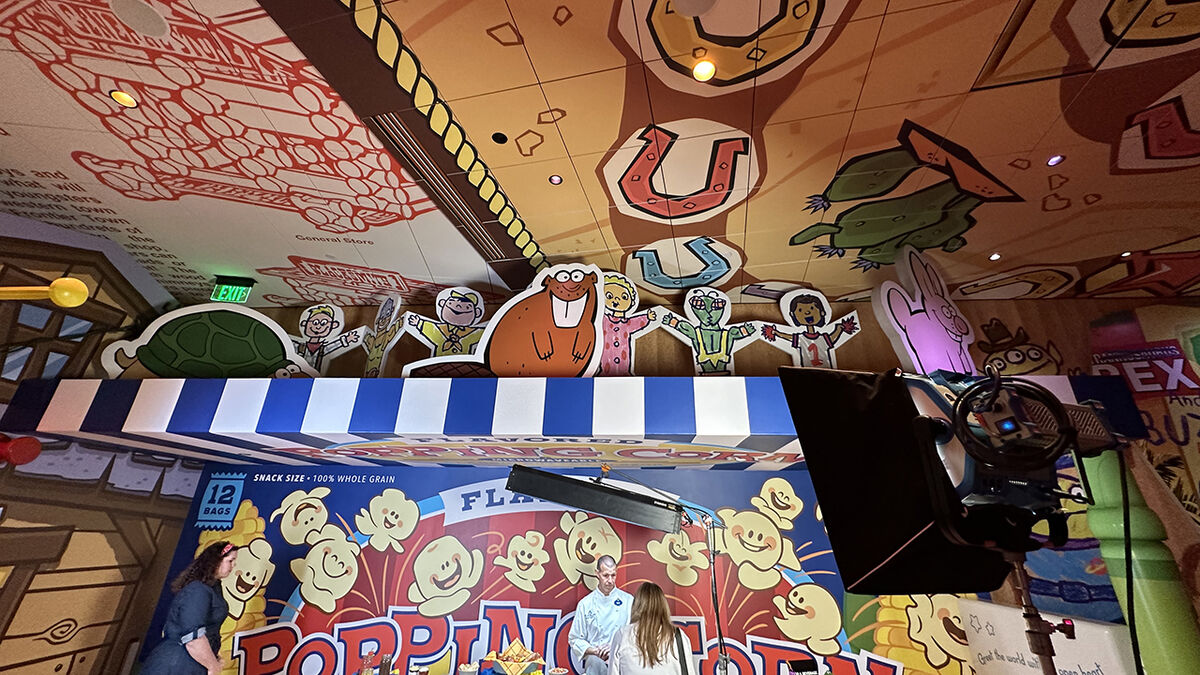 Roundup Rodeo BBQ opens March 23, 2023. You'll want to make a reservation ahead of any trip because this will be a popular spot.
---