The holidays are right around the corner and that means it's time to share meals with our loved ones. This year you could impress everyone with a unique meal from the spicy anime series Food Wars (Shokugeki no Soma). After going through all of the amazing dishes featured in the show, we chose the ones that would go together well with the festivities in both flavor and emotional connection conveyed by the characters in Food Wars.
Anime fans, this is your moment to shine showing your friends and family what can be learned in a show like Food Wars, and who knows, maybe these foods will create a new anime fan in your circle!
Snack:
Sumire Karaage Roll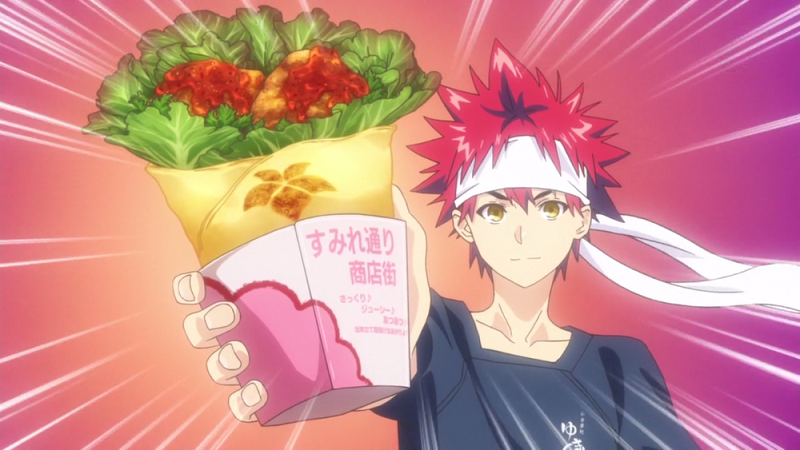 While dinner is being prepared and all of your guests are arriving in the afternoon to socialize and spend time together, it's always a good idea to have a snack ready.
This snack will keep everyone satisfied until dinner time without overfilling their stomachs so that they have room for all the delicious dishes being served for the big holiday meal.
Soma Yukihara had to come up with a dish that could save the shopping district that was home to his father's diner, Yukihara, from being shut down. Utilizing their diner being in a shopping district to his advantage, Soma came up with a snack that could be carried easily while walking around and browsing the stores.
While your guests won't be shopping, they most certainly will be walking around wanting to socialize, so this dish is an ideal starting point.
Click here to see the recipe to make your own Sumire Karaage Roll for your guests.
Main Dish:
Soma Yukihara's Pseudo Roast Pork
The first dish presented in Food Wars has been an iconic one for good reason; not only is it creative but it looks incredibly delicious! Soma made this dish to create a meaty texture, even though the only meat available to him was thick cut bacon. It mimics the look of a holiday ham but with a surprising twist of having potatoes and mushrooms as the filling underneath the bacon!
Soma is a character that likes to experiment with his recipes and learn from previous failures. This recipe was created by observing what happened in a previous mistake of poorly plating pork on top of potato salad, which led to all the juices of the pork being soaked up by the potato salad.
Holidays are all about family but because the end of the year draws near, we tend to self-reflect on our successes and failures. Soma's pseudo pork dish is a great representation of that. Sharing this masterful yet teachable moment dish will impress your loved ones, and definitely be the star of the menu.
Click here to see the recipe to make your own Pseudo Pork Roast for your guests.
Side Dish 1:
Megumi Tadokoro's Rainbow Terrine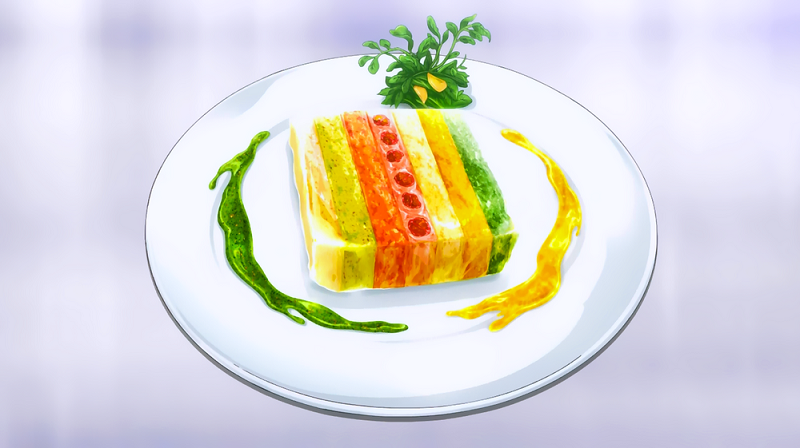 Vegetable side dishes always tend to be the least exciting in our holiday meals, but this dish made by the incredibly charming character Megumi is sure to change that. There are seven different vegetables made into a pate with two different types of sauces. Megumi made sure to add all Spice into the dish, because the known benefits of this addition help aid in proper digestion. During the holidays we will definitely need an ingredient to help digest all the delicious food.
Megumi used sun dried tomatoes because back home, her family would dry all of their summer vegetables to preserve them for the winter time. She recalls the memory of her mother teaching her how to dry tomatoes and wanted to pay tribute to all that she learned from her family and did so successfully. This dish will change the game on getting our vegetables in for a balanced meal without being boring, while also conjuring up the feelings of warmth and love necessary for an ideal holiday meal.
The Rainbow Terrine recipe not only saved Megumi from being kicked out of the Totsuki Culinary Academy but won over the hearts of everyone who tried it, including her competitor Kojiro Shinomiya. He said it, "could relax a troubled soul" and tasted like, "a mother's love." During the holiday season I think we could all use a dish that will relax our souls and fill our hearts with love.
Click here to see the recipe to make your own Rainbow Terrine for your guests.
Side Dish 2:
Miyoko Hojo's Curry Pineapple Fried Rice
There are a lot of salt-heavy flavors in the menu so far. In order to balance that out, add this pineapple fried rice to do just the trick. Instead of making the predictable cranberry sauce like every year, mix things up with adding some tropical flavor with this rice dish served inside of a hollowed out pineapple!
The judges that tasted Miyoko's curry pineapple fried rice dish during the food war in episode 22 expressed how powerful they felt when eating it; however, this dish did not get Miyoko the win she had hoped for. Not all dishes can win the competition but that doesn't mean they don't have value. This dish taught Miyoko to be humble and understand that everyone has their own strengths and weaknesses along the journey of cooking. With all of the fancy meals on the menu already it's good to have something more approachable on the table, and it's vegetarian so anyone who needs a meat free option can enjoy this dish!
Click here to see the recipe to make your own Curry Pineapple Fried Rice for your guests.
Dessert:
Yukihara Style
Midsummer Christmas Cake
Soma Yukihara baked a creative version of the classic Buche De Noel cakes that look like tree trunks served around Christmas time. While this was presented as a midsummer dish in the series it definitely can be created in the winter.
Soma grew up being constantly challenged by his father to work hard on their dishes in the Yukihara Diner to be both universal and exciting. Soma values his relationship with his father more than anything else and this dish wouldn't have been possible without the challenges given to Soma by his father. This dessert represents what can happen when you are challenged by loved ones in a way to help you grow.
The ultimate surprise of this dish are the fireworks at the top. When pulled, they release coffee crumble sprinkles and a brown cream that keeps them from getting soggy. The coffee crumbles make this the perfect holiday dish to perk everyone up after filling their bellies with so many amazing dishes.
Click here to see the recipe to make your own Midsummer Christmas Cake for your guests.
---
The dishes on this list have something for everyone to enjoy and definitely have the perfect balance of excitement and familiarity to keep your guests happy this holiday season. The menu possibilities in Food Wars are endless, so take a look through all the dishes that Food Wars highlights and see if any other menu items would fit your holiday needs!