After years of anticipation, Super Nintendo World has arrived in the United States, with the land officially opening at Universal Studios Hollywood. Fandom paid a visit to the big grand opening event last week on what was a notably cold night (by Los Angeles standards, granted). But that still didn't stop folks like Chris Pratt, Brie Larson, and Nintendo's legendary Shigeru Miyamoto from showing up and entering the land via a life-sized Warp Pipe to experience everything you can see and do in the new area.
Check out the video above, as Fandom's Emma Fyffe and Bailey Meyers take in the sights, go on the ride, take a gander at the merch and food, and participate in the key coin challenges located throughout the area, including a Koopa Troopa Shell POW Block minigame and a Goomba winding minigame. And read on for a few thoughts on the land…
A Castle Fit for a King Koopa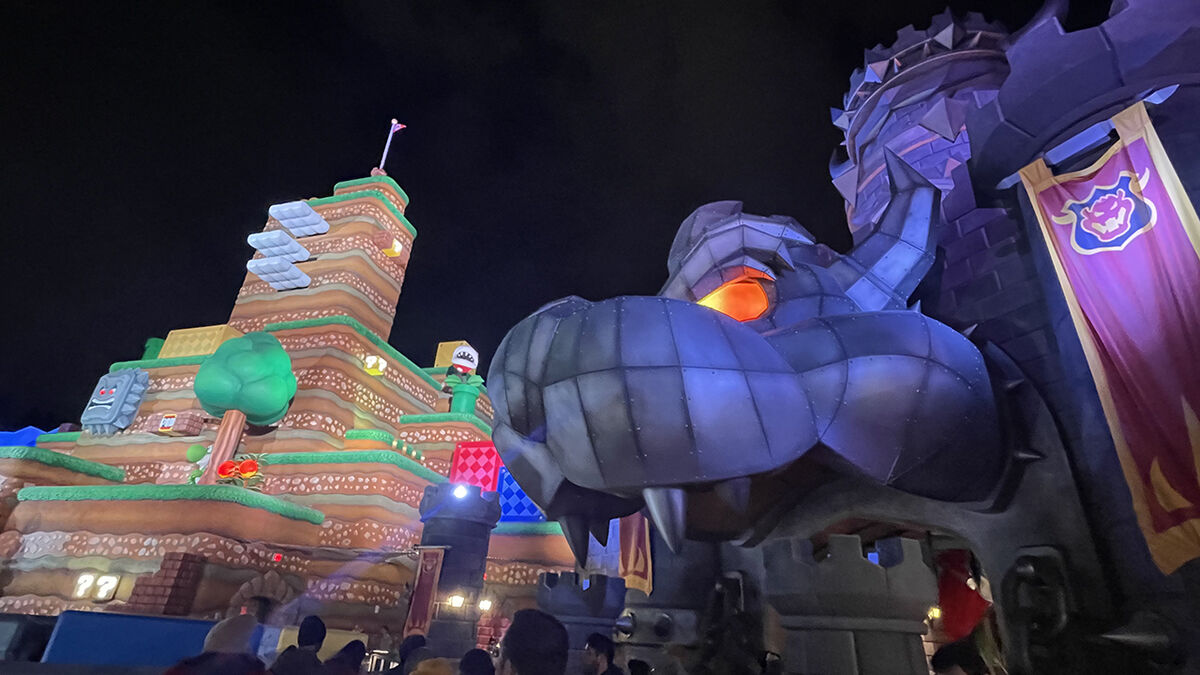 The big draw in terms of attractions at Super Nintendo World is Mario Kart: Bowser's Challenge, which is inside the massive Bowser's Castle that stands at the back of the land. Visually, Super Nintendo World is delightful from the get go, with every corner filled with familiar objects and characters from the Mario games.
Lines for Bower's Challenge have predictably been very long but it's worth noting this attention to detail from outdoors continues throughout the indoor queue for the ride, which takes you through Bowser's Castle, and helps make the wait much more bearable. There's entertaining details throughout, such as blueprints for familiar vehicles or items or a library packed with titles containing all sorts of Easter eggs.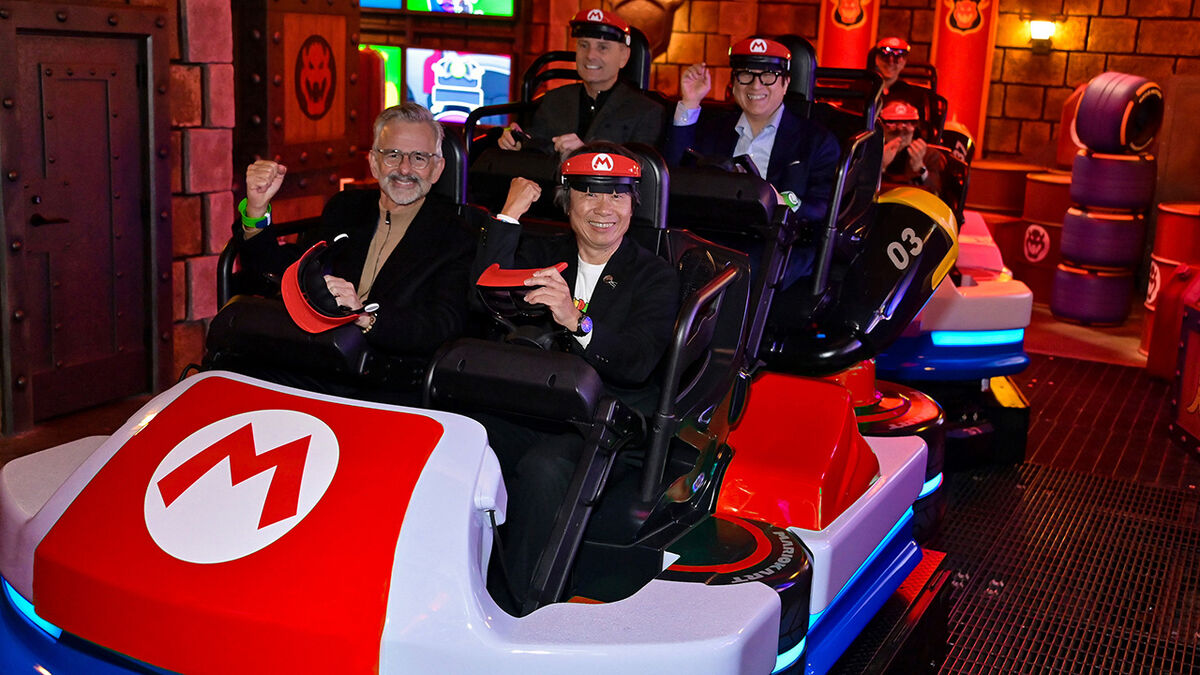 As for the ride itself, it evokes pretty much all the familiar elements of Mario Kart in real life in a very cool and impressive manner. You're in a race, zooming through some rather elaborate sets based on familiar locations from the series, while wearing a 3D visor depicting your fellow racers, including Bowser himself. And, yes, you can shoot shells at him and his minions via buttons on your steering console.
The ride can be a bit of a sensory overload initially and takes a couple of times to truly feel like you've experienced it all, because you essentially need to decide if you're going to focus on admiring the locations you're moving through or concentrate on the race itself and aiming at your opponents. That being the case, you really need the second time to do the thing you didn't do the first time out… which is easier said than done if the ride has a two-hour wait.
Of course, those hyper-focused on winning the race — you are told at the end whether your Team Mario won or Team Bowser did —  may never really see all the sights around them and still be happy. Though for anyone playing, it's undeniably blissful to experience Rainbow Road for real.
Yum Yum Gimme Some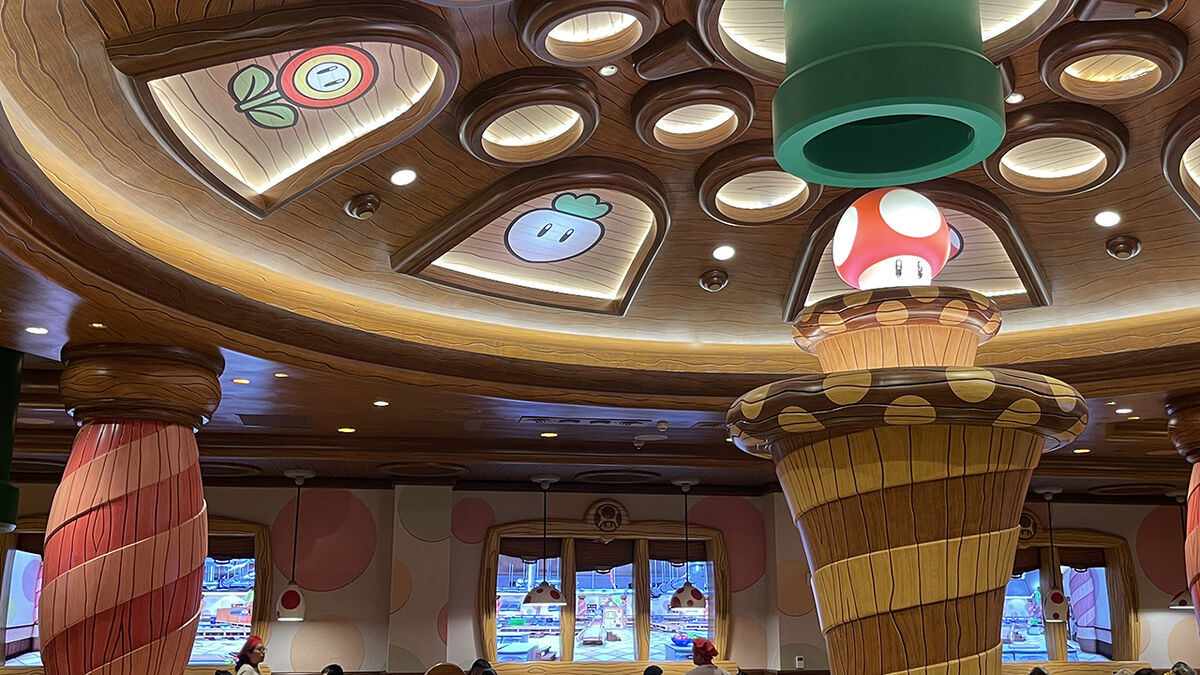 Along with the requisite store, there is a restaurant inside Super Nintendo World, the Toadstool Cafe, which is filled with food items that vary from good to great in taste — my favorite was the Luigi Burger (a Pesto Grilled Chicken sandwich) — though all stand out when it comes to presentation, as everything comes with really fun and adorable touches. As with the rest of the land, it's hard to not grin seeing so much from the game brought to life in such a vibrant manner.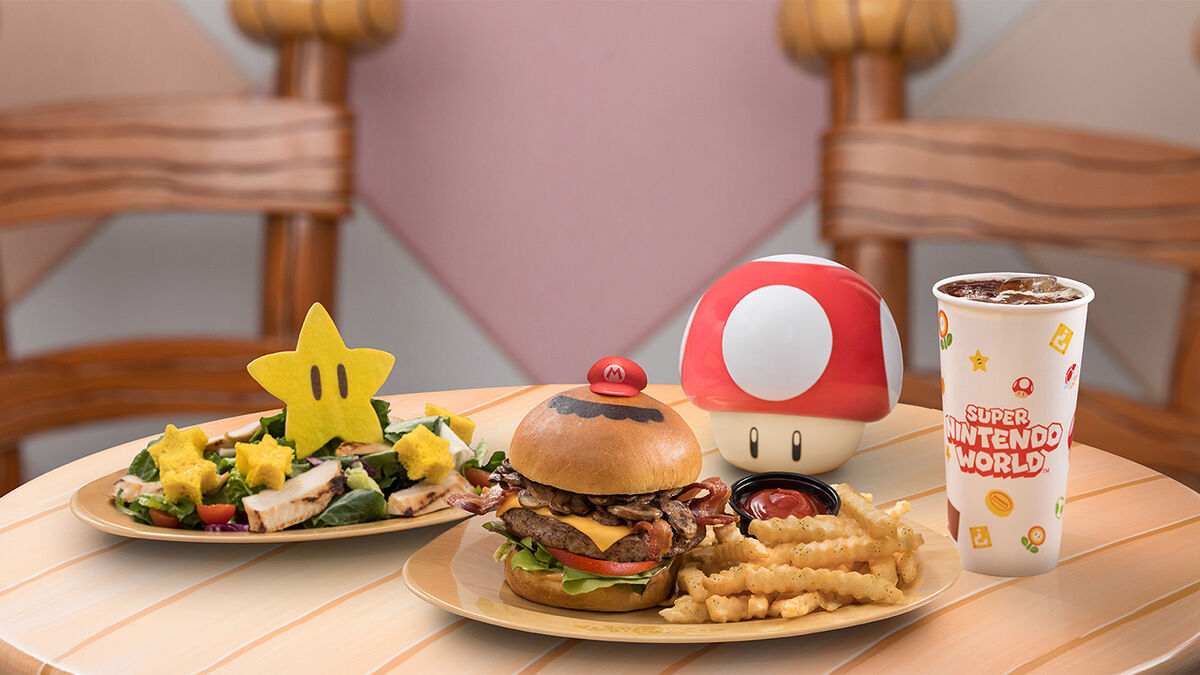 From the Mario and Luigi caps and mustaches on the top of their respective burgers to the Mushroom bowl the soups — either tomato or, of course, mushroom — are served in, it's all Instagram-ready. And hey, vegetables and cheese are certainly more fun when they're in the form of a Piranha Plant Caprese.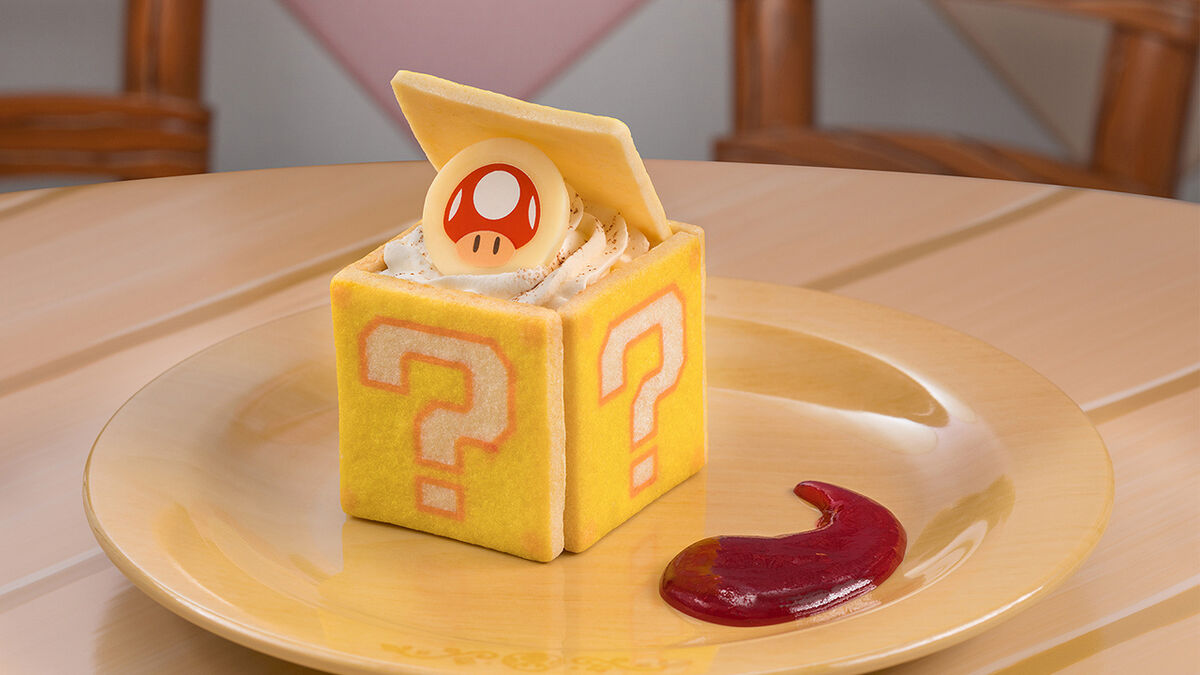 And if you're having Tiramisu for dessert, well obviously you'd want it in a ? Block. That's just being logical.
Room to Grow Like Mario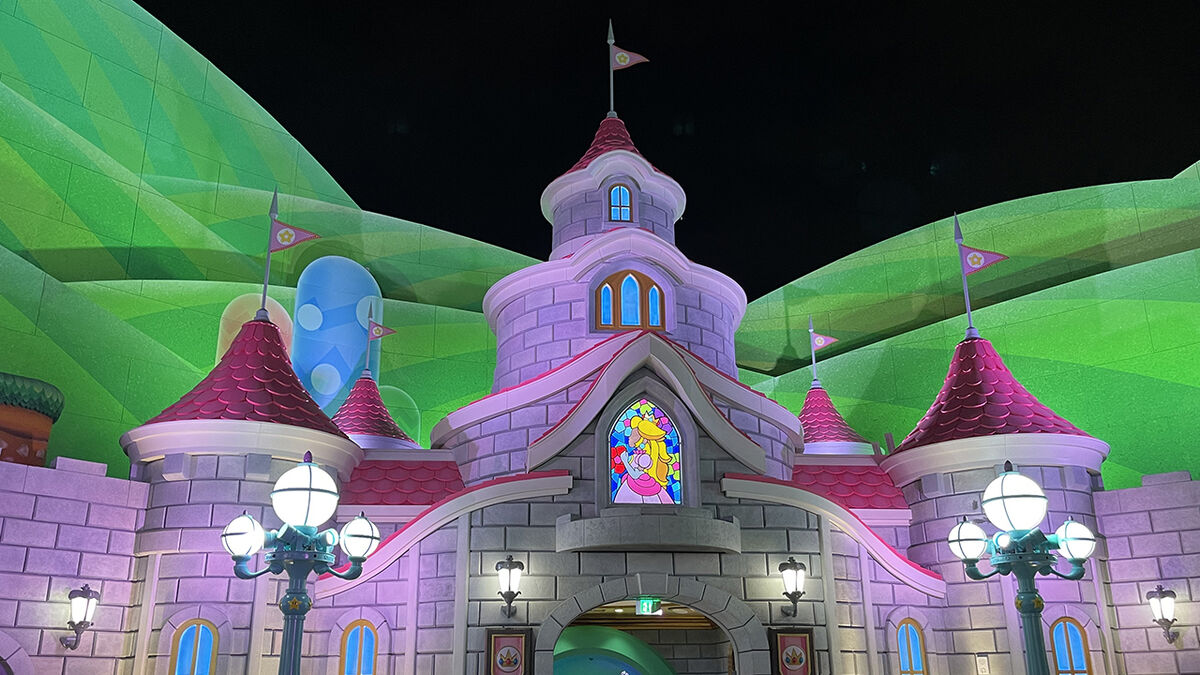 Walking around the land, there definitely is a learning curve to making the most out of the Power-Up Bands that can be purchased in order to take part in the interactive challenges like the minigames and yes, it's frustrating that a good portion of the elements in Super Nintendo World aren't fully accessible without an additional $40.00 charge for the Band. The land is all great to look at but if you're a Mario fan who truly want to engage with Super Nintendo World to the full extent possible, you'll want a Power-Up Band. It is reusable for future trips, with items like virtual stamps you can collect (visible via the Universal Studios Hollywood amp) holding over after your current visit is over.
The most notable issue Super Nintendo World has is that in its current incarnation, it's relatively small, which means when it's crowded, you feel the crowds. Universal Studios Hollywood always struggles with its limited amount of space, and this version of Super Nintendo World doesn't have the Yoshi's Adventure ride the original location at Universal Studios Japan does to help spread guests out more. There is a Donkey Kong ride being built for Japan as well, and, word has it, for the eventual Universal Orlando Resort Super Nintendo World at the new Epic Universe park opening in 2025. Rumors say it just might also arrive in Hollywood down the line too, adding more areas for guests to go.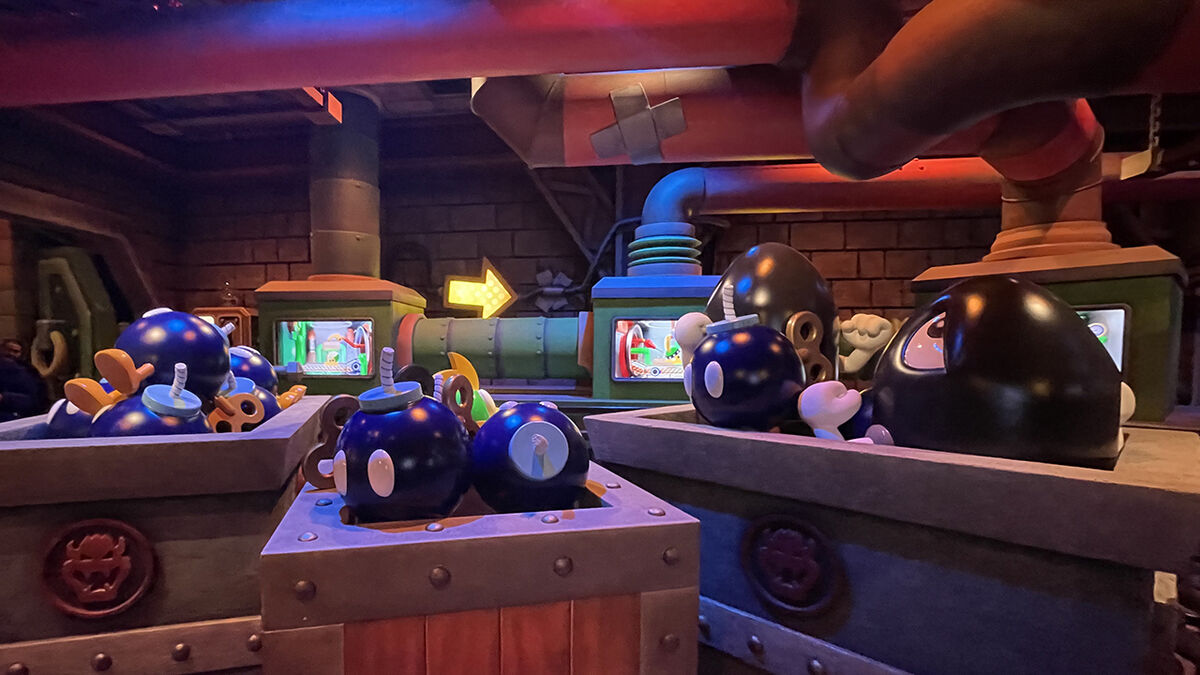 For now, you may need to navigate past a lot of people in one tightly packed area to get to the next hidden element your Power-Up Band can uncover or find yourself waiting in a lot of minilines to play minigames. Overall though, even with the space limitations, it's notable just how much there is to take in while there, as it truly does feel like this legendary video game world has been rather magically brought into the real world.
---
For more on what you'll find at Super Nintendo World, click here for the coverage from GameSpot!