34 years after The Little Mermaid became a sensation (and revitalized Walt Disney Animation Studios in the process) the story – itself loosely based on the fairy tale by Hans Christian Andersen – is back on screen via a new live-action adaptation from Disney.
From director Rob Marshall (Chicago), the 2023 version of The Little Mermaid stars Halle Bailey as Ariel, alongside Jonah Hauer-King as Prince Eric, Javier Bardem as King Triton, and Melissa McCarthy as Ursula, while Awkwafina, Daveed Diggs, and Jacob Tremblay voice Scuttle, Sebastian, and Flounder, respectively. The legendary Alan Menken returns as composer and co-writer of both the original songs and several new additions, with Lin-Manuel Miranda working alongside Menkan as the lyricist for the new songs, in place of the late, truly great Howard Ashman.
Marshall, Menkan, and the cast spoke about their approach to the beloved music and the unusual process of bringing these characters to life both for those playing the merpeople and the smaller sea creatures depicted in the film.
"UNDER" ON TOP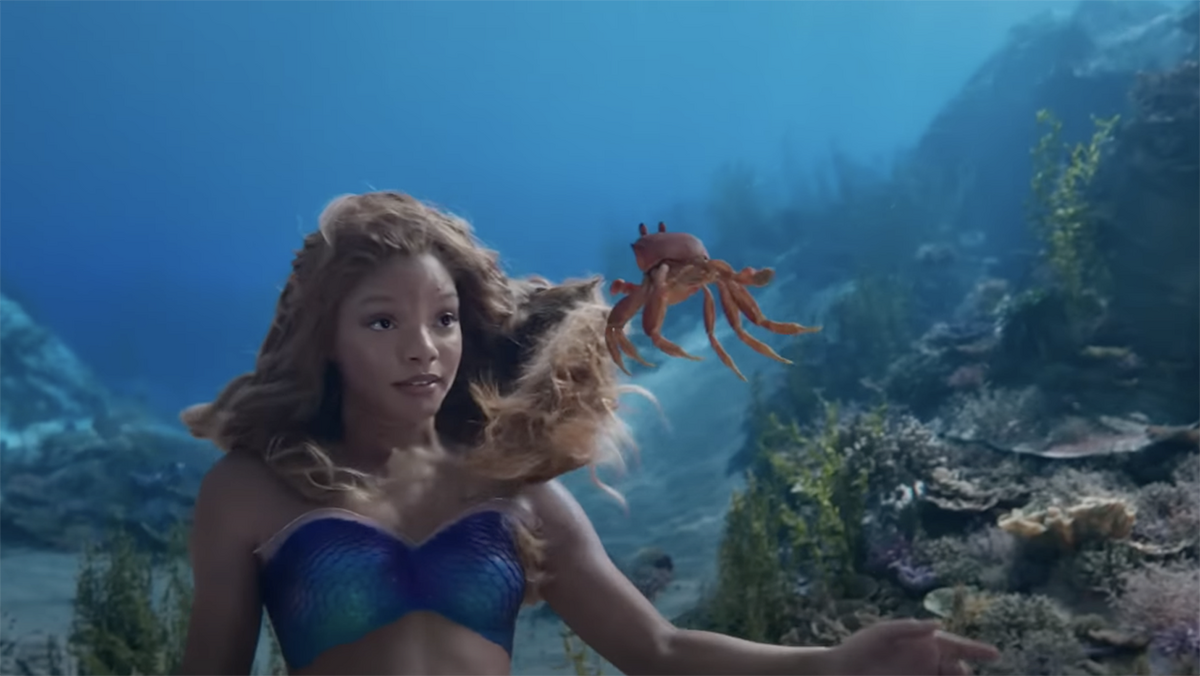 When we recently polled Fandom's popular Disney Wiki to ask the community which song from the original The Little Mermaid was their favorite, it got pretty close between a couple of candidates – with lots of love for "Part of Your World" – but ultimately, it was "Under the Sea" that won out.
Rob Marshall wasn't surprised, noting, "It's the Oscar-winning song! And it's just so infectious."
"'Under the Sea' is just a banger!" – RasmusPV naming their favorite Little Mermaid song on the Disney Wiki
As the voice of Sebastian, Daveed Diggs is the one actually singing "Under the Sea" in the new film, and the actor observed, "I hadn't seen The Little Mermaid in I don't know how long, but as soon as I started working on it, I was like, 'Oh my god, I still know all these words!' That's how ingrained it is. It's pretty crazy. It's a perfectly written song and [how it's] orchestrated and composed, it really is amazing. Once you start getting into it lyrically, it is mind boggling how good that song is."
Looking back on the song and how it took off, Alan Menken noted you never can tell what will be a sensation, observing, "It's just one character sort of extolling the virtue of everything around him. And then we're seeing all the things [he's mentioning], so it's really a travelogue through what's under the sea."
"'Under the Sea,' nothing can top it!" – 1998randall14 naming their favorite Little Mermaid song on the Disney Wiki
The live-action version does change things a bit by having Ariel, briefly succumbing to the charms of Sebastian's song, begin to join him singing the chorus and Menken explained, "That happened in the process of recording it. That sense from Rob, I think –  maybe even coming from Halle – of 'I feel like she should be singing here. What should we do?' I said 'Okay, give me a sec,' and did it on our feet. And we worked it out."
As for how he approached this famous sequence visually, Marshall noted, "In the original, all the fish, all the sea creatures, are playing instruments. And I said, 'Well, that's just too far. That's an animation concept, so we have to do something else.'"
"'Under the Sea' because it reminds me of watching the movie with my dad." – SpacemanConnor naming their favorite Little Mermaid song on the Disney Wiki
Regarding his new approach, Marshall explained, "It all started with me watching [BBC documentary] Blue Planet. I thought, 'Oh my gosh, there's already a full carnival happening under the sea anyway. They're already dancing and moving and it's so beautiful.' So what we did was we actually chose these sea creatures, but I knew we needed dancers to create the movement so the CGI artists could actually apply those dance steps to these creatures. So I took up a little page out of Walt Disney's playbook, because he had worked with the Ballet Russe on Fantasia. I brought the Alvin Ailey company, over to London to work with them to build this number on. And it was just incredible, because they could be all these different creatures for us and the animators could actually work with that. Because it needed to be designed as a proper production number – I mean, that's what I do. I love creating big production numbers. But this one was so daunting, because we had one live actor, that was it."
THE FILMING PROCESS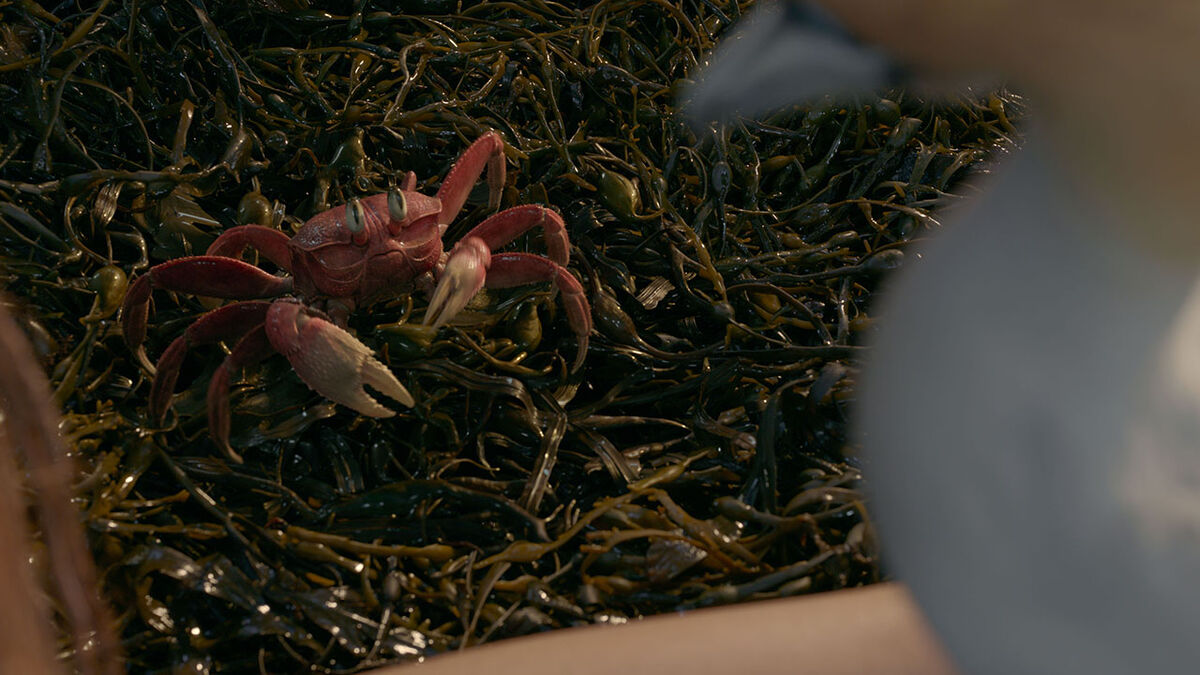 The actors providing the voices of the sea creatures have all previously voiced characters in animated films from Walt Disney Animation Studios or Pixar, but Daveed Diggs (Soul), Awkwafina (Raya and the Last Dragon) and Jacob Tremblay (Luca) all agreed The Little Mermaid was a very different process. Rather than record on their own in a small recording booth (or even at their own home, as was often the case during the pandemic), the entire cast assembled together to kick things off, whether or not they were appearing on camera, with the actors who would be seen in live-action performing the scenes alongside the voice cast, who were there to provide both the vocals and the template for the physicality that would be created digitally for the characters.
Said Tremblay, "I was so surprised. I didn't actually know that we were recording it when we did the actual recording! Because yeah, I did Luca and I was so used to being in the booth with the microphone, but what ended up happening is they kind of had it set up like a stage. It was really cool."
Added Awkwafina, "We were standing in a room just like this. No separation, literally music stands and mics."
Tremblay explained, "I thought it was just rehearsal. And luckily, I felt a lot of pressure [because] everyone's there. I decided just to do it, like give 100% and do it exactly how I'd do it, if you were recording. It turns out that was a good choice, because we weren't doing it again!"
Even before that, there had been a lot of rehearsal and Diggs remarked, "All of us rehearsing together as a company for the first sort of month of this, before anyone was shooting anything, was really helpful and us being able to partner with the [on set] puppeteers who would eventually be performing with our voices for Halle and for the other actors, once we were gone. All that stuff was so useful, because we got to figure out how the characters move through space… That stuff was really cool and very, very unexpected."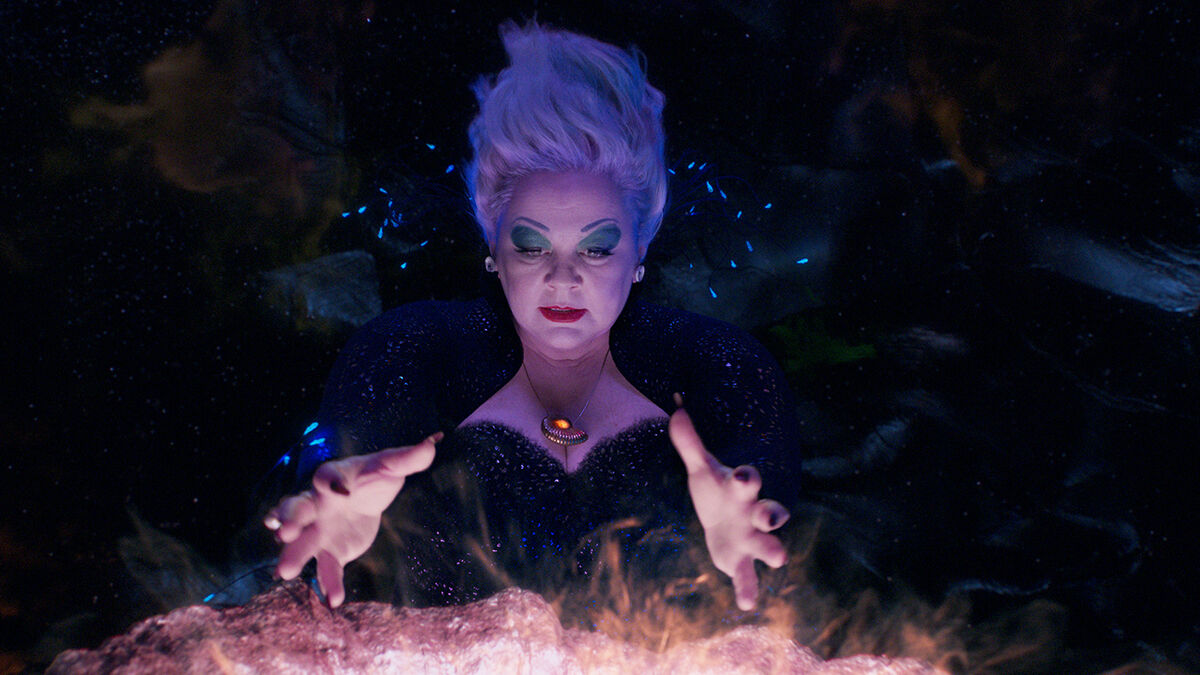 Once full production began with the live-action cast, there were a ton of other technical considerations, starting with the fact that you had main characters like Ariel, Triton, and Ursula who didn't walk, they swam. This required the actors to be put on large harnesses and to have a number of people assisting them as they moved through a scene.
As Javier Bardem put it, "It would be a dance between you and all the people around you, helping you to move like a fish. And that choreography is beautifully made by Rob and John, and the whole team. And they were wildly open to your take on it. Like if you want it to go [somewhere], they will move with you. They won't say 'No, you cannot do that.' They would say 'Do whatever you want, we'll follow you.' Or, as he put it, making McCarthy laugh, "You felt like you were in control of your own fishy movements."
McCarthy added, to Bardem, "You said something that I'd never really thought about, which is that everything is choreography in this movie. Because we're never on the floor, and my feet never touched the ground! And so everything you did is not only a dance you're doing but you're doing it with your team of 7, 8, 10 people, you're dancing with your team."
McCarthy elaborated, pointing out that if a scene called for three underwater characters interacting, as when Ariel, Triton, and Ursula are together, "It's 30 people moving [on set], and everything has to be right and instinctual but fluid."
NEW SONGS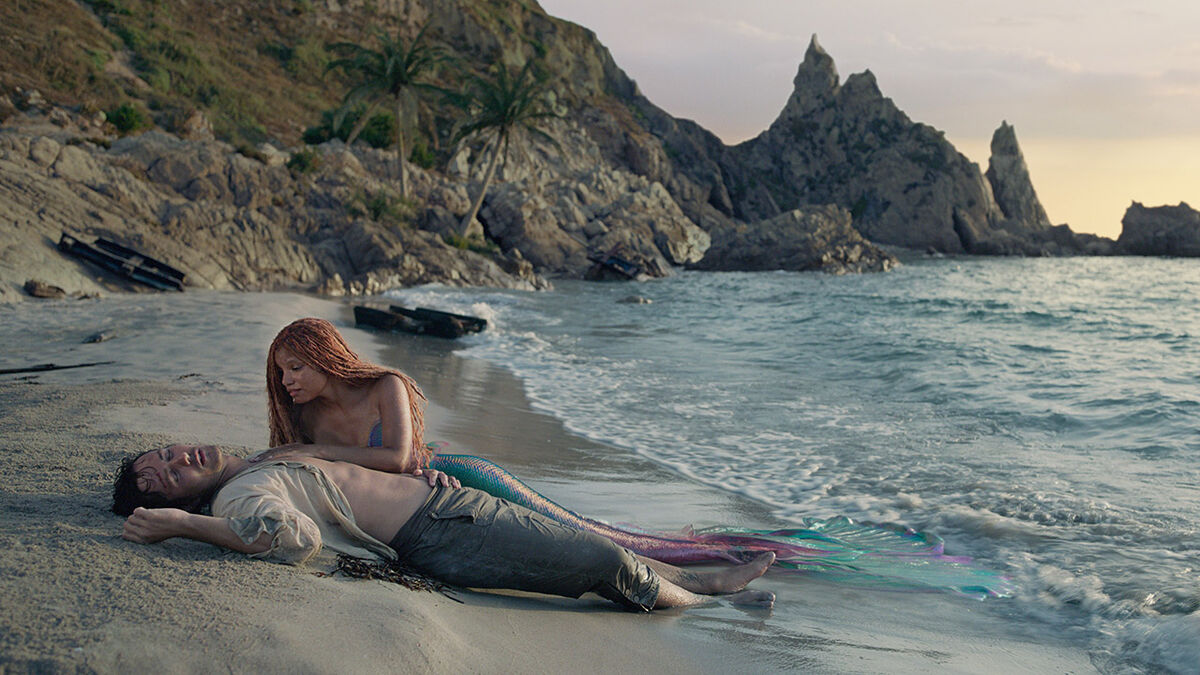 The Little Mermaid's songs are iconic but the live-action version actually adds three new ones into the mix, written by Menken and Lin-Manuel Miranda.
Explaining the process of deciding what to add, Menken said, "Rob and [producer] John DeLuca and [screenwriter] David Magee and Lin and me, we met at Rob's apartment or we met at my studio, and we took the movie apart, looked at all the pieces that we knew were going to be there and then tried to figure out what would be the best additions. Rob is the captain of the ship, Rob is really the one who makes the decisions. And he really wanted a Prince Eric song."
Said Marshall, "It's very, very important to me when someone sings in a musical that it feels earned, not like something that just feels gratuitous, because that never works, if you just feel like 'Wow, why is there a song there and why are they singing? This is so embarrassing!' And so it has to feel like it comes out of something very natural. And the first new song in the order of the film was 'Wild Unchartered Waters.' I really wanted Eric to have a song. He didn't have a song in the original. I wanted to understand what his journey was, what his 'I want' was. Where are we going with him?"
The second new song, "For the First Time," is sung by Ariel, with Marshall noting it's a bit surprising, looking back, that she only has one song in the original film and he wanted to remedy that. "For the First Time" comes in the story shortly after Ariel has arrived on land, during the point where the character has no voice, so it's made clear this is a song she's singing to herself in her head. As Marshall explained, "I thought we could employ this idea of hearing Ariel's thoughts… 'For the First Time' also helped tell the story over a montage of her first time on land to the moment she meets the prince. And so that helped that storytelling and pull that all together into one big piece."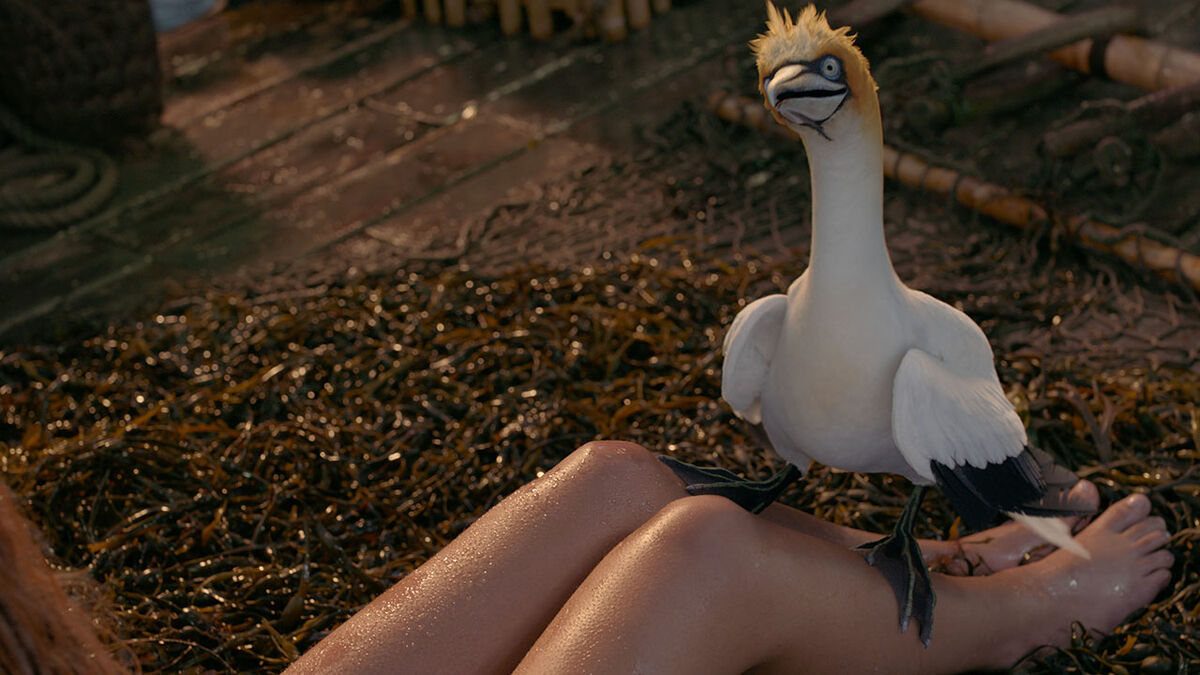 The third new song, "Scuttlebutt," is performed by Scuttle (with an assist from Sebastian), with Menkan noting, "I thought it would be like a cute little throwaway. And it is a cute little throwaway, but people love it!"
Said Marshall, "It was so fun because we love that Scuttle can't ever put a full sentence together and always gets things wrong. And so to have that as a patter sort of rap song, with Lin-Manuel helping us create that, was incredible."
"Scuttlebutt" is very much familiar territory for Miranda, but Menkan admitted, "It's totally different for me. I loved it." He added, sitting at his piano, "I dread the day when anybody will say to me, 'Oh, could you play that song? I will figure out how to do it at some point! But it's very strongly in Lin's wheelhouse. He rapped over another piece of music in a way that created a whole other dimension for it and it's just so disarming. It's wonderful."
Awkwafina first got attention as a rap artist and "Scuttlebutt" is her first chance in a while to return to that.
She noted, "It was a pleasant surprise. I had no idea that there would be a Scuttle song! And obviously, I'm a huge fan of Lin and his and the way that he writes and so it was really cool to have a song that sounded very much like him."
The Little Mermaid opens May 26.
---