MAJOR SPOILERS follow for Transformers: Rise of the Beasts. 
Transformers: Rise of the Machines is now in theaters, meaning audiences are getting to see the film's conclusion and a big ending reveal few saw coming.
In the final moments of the movie, Noah Diaz (Anthony Ramos) arrives for what he thinks is a normal job interview, only to find himself meeting with the mysterious Agent Burke (House of Cards' Michael Kelly), who explains he's part of a secret organization that is fully aware of what Noah accomplished during the film's events, alongside the Autobots and Maximals, to save the Earth.
This group is suitably impressed and want to offer him a position, telling him there's a war being fought, and they'd like the help of both Noah and his Transformers friends. The innocuous meeting room wall behind Burke opens up — triggered by Burke manipulating a "Real Hero" award on the wall — showing Noah a much larger room behind it, filled with high tech equipment. And that's when Noah looks down at the card Burke has handed him and sees the words G.I. JOE.
It's a major curveball to throw into the seventh movie in the Transformers film franchise, setting up an onscreen crossover with another Hasbro-owned property that has never been attempted in live-action before, even as several comic books, dating back to Marvel's 1987 G.I. Joe and the Transformers limited series, have shown what happens when Robots in Disguise meet A Real American Hero.
Even with Hasbro owning both franchises and Paramount making their respective films, it wasn't a simple thing to get this into the movie, as Ramos was well aware, telling Fandom "I'm just grateful that the army of people it took to approve it all approved."
As for the possibility of seeing Noah join G.I. Joe in another movie, Ramos said, "I'm excited! I'm pumped, man. It's crazy to mesh those two universes. It only seemed right. That was Steven's idea to do that."
NOAH-ING IS HALF THE BATTLE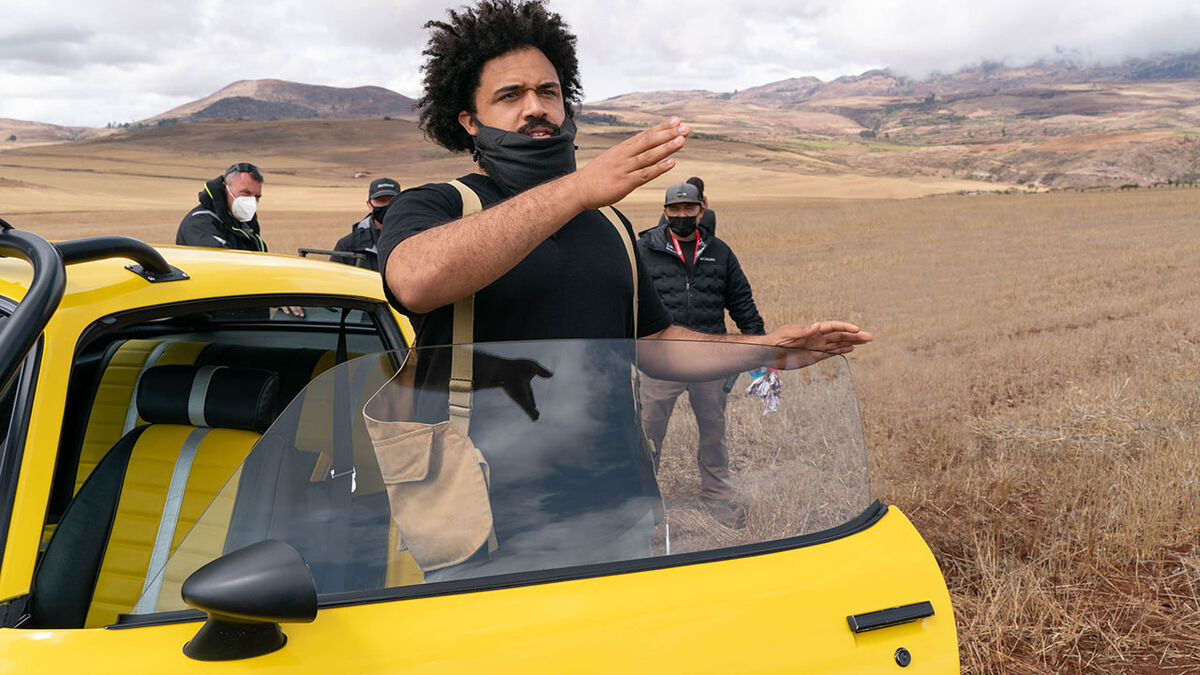 As Ramos mentioned, it was director Steven Caple Jr. who came up with the idea to include G.I. Joe in Rise of the Beasts. As Caple told Fandom, "I wanted a scene where we could wrap up Noah's arc in our film," noting that when Rise begins, "He was dealing with some stuff with not getting a job and his experience in the military. So that created some distrust between him and Optimus Prime. But we got to the end of the film and I came up with this idea that this organization would help him out with his situation."
After thinking about who this organization would be, Caple explained, "I came up with the idea of the G.I. Joes and I pitched it to the studio and the producers, and you could see it on their faces – everyone was excited about the idea. But this was two years ago, or a little bit more. It took a while to get everything in place because we're trying to do a pretty big crossover, a pretty big idea in terms of expanding the Hasbro universe."
Like Ramos, Caple was also grateful everyone at Hasbro and Paramount ultimately agreed to do it, explaining, "I'm a fan of the [G.I. Joe] franchise as well. I grew up on it. My most recent one is Renegades, which I really dug. So I think there's some stuff to pull from in that era, or that sort of faction, of the franchise."
I mentioned to Caple how, when it became clear something important was occurring for Noah, I initially began to assume that perhaps they were going to have John Cena return as Jack Burns from Bumblebee or that it would be someone else connected to the Sector Seven or N.E.S.T. organizations from the earlier Transformers films (Burns was a part of Sector Seven).
Said Caple, "Yeah, a lot of people thought it was Sector Seven. Everyone was like, 'Is this Sector Seven?' I was like 'No, that's too common.'" In fact, Caple revealed they had a false ending for early screenings. "For a while, we did show a version of it with Sector Seven because we wanted to keep it pretty tight and close to the chest and we didn't want the info to get out there. So if you hear that, there are probably some people who actually did see a Sector Seven version a while back ago."
CODE NAME: ???? 
Lorenzo di Bonaventura, who has produced both the Transformers and G.I. Joe movies – the latter of which has struggled to become an ongoing film franchise – said that as the Transformers films have continued, "We've been talking about Joe for a while and the fans have been going, 'Come on, Joe! Joe!' We didn't want to do it cynically, by just sort of throwing it in."
di Bonaventura praised how Caple tied the reveal into Noah's story arc, noting, "He starts as a guy who can't get a job, and life is not helping him. And at the end, he ends up with the greatest job offer ever. So it felt very natural to conclude that way."
As for where the story goes next, Caple noted, "We're still figuring out ways now to play with it for the future." Said di Bonaventura, "We don't plan ahead that much, because what we do – and I think it's partly why we've been able to keep ourselves fresh – is we experience this movie with the audience. And then our takeaway from that experience is what influences where we're going to go." Still he added, "We have some ideas. Joe characters will be part of it."
Noah Diaz's military background sets him up as a G.I. Joe candidate but is there more to it than that? Could Noah actually be a familiar G.I. Joe character from that franchise's history with a new alter ego? Asked this question, di Bonaventura would only smile and reply, "You're gonna find out!"
Regardless, Ramos looks forward to where the story could go, saying, "I think it just opens up this world. We already opened this world up with the Maximals, but now with G.I. Joe, it's like, yo, literally, we can go anywhere."
---