The following article contains SPOILERS for the Willow finale, entitled "Children of the Wyrm", and for the entire Season 1 arc. Proceed at your own risk.
We might still be waiting for the official word on whether Willow gets the green light for Season 2 but showrunner Jonathan Kasdan is carrying on regardless.
"We're continuing to work," he tells Fandom as we chat following the climactic Season 1 finale – a denouement, and indeed season, setting up much for exploration in the future. "You know, these shows take so long to produce. The attitude and the sort of edict that's come down to me from Lucasfilm is, 'Proceed young man; keep going'. So, while we certainly haven't been greenlit in any official way, we also are moving forward every day."
This will please fans of the legacyquel series that picks up the story from the original 1988 film, created by George Lucas and directed by Ron Howard. Legacyquels — a sequel created years later in which original stars reprise beloved roles and often pass the torch to a younger cast — show no sign of abating. This latest weaves a whole new adventure for OG heroic Nelwyn sorcerer Willow Ufgood (Warwick Davis), legacy character Elora Danan (played by Ellie Bamber in the show but seen only as the baby he must protect in the movie), and a bunch of new characters.
Joanne Whalley's Sorsha is also back, and while the pandemic put paid to Val Kilmer reprising his role in Season 1 as Madmartigan, the character's presence is felt throughout via references, end-credits illustrations, and a voice cameo – actually supplied by Whalley and Kilmer's real-life son, Jack Kilmer. The series remains true to the spirit of the original, while also injecting a contemporary feel, at the same time as expanding the lore around a fantasy flick that's dear to many.
"Sixteen Candles. Also: Weird Science." — Fandom community member FishTank wants to see more legacyquels to two classic 1980s films, the second of which did get a spin-off series in the 1990s.
Mapping Beyond 'Willow' Season 1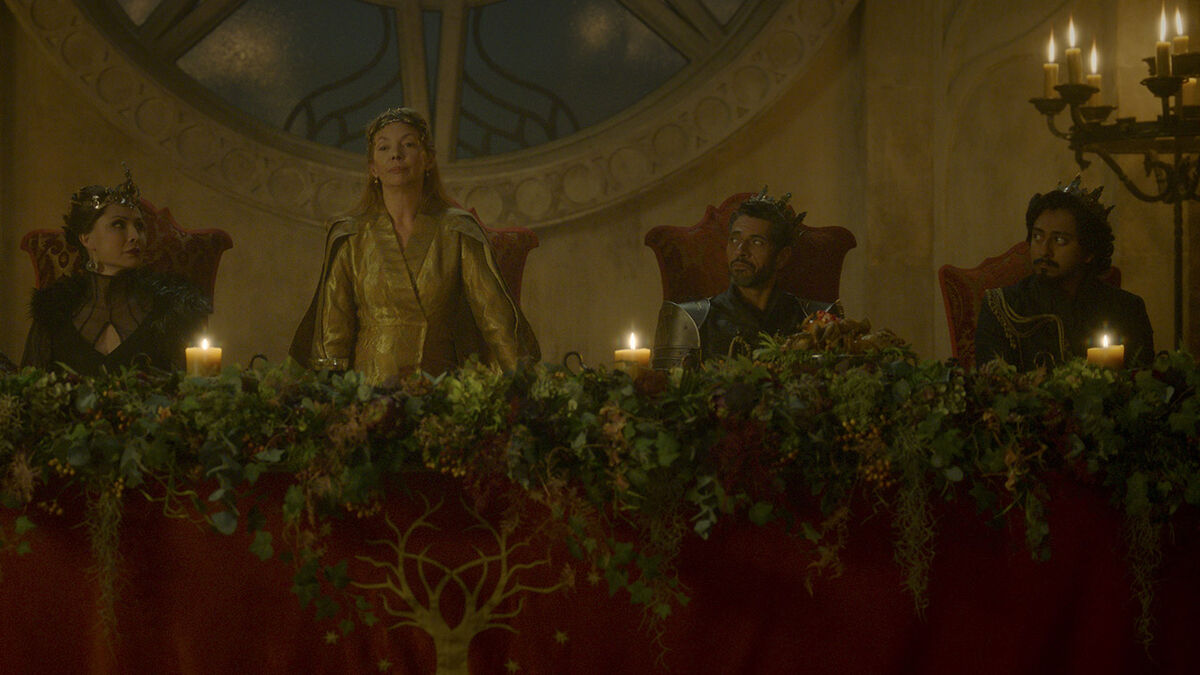 Given that the Season 1 finale leaves us with several questions, including what's next for Tony Revolori's Graydon, it's a good bet that Kasdan has fairly concrete plans beyond one season. Not only do we see the aspiring magic user pitch up in some apparent alternate dimension — "the dawn of the next age of this world," according to a crop-haired version of Elora Danan taking advantage of his feelings for her and promising him a place at her side – but we are also left wondering about the mysterious entity that is the Wyrm. Even the fate of Christian Slater's Allagash, who wasn't around for long but made a big impact, is left in the balance.
Kasdan says he has "quite a bit" beyond mapped out. "We've got a lot of story and a lot of directions we want to go, and my experience of doing the first season is that it evolves as you go. Things fall away, and things grow, and things go in different directions than you expect. But certainly, there's enormous intention over where we're headed and what the story could be."
At the end of the Season 1 finale, we see a hand belonging to a mystery character putting a book — Volume I — back on a bookshelf, alongside Volumes II and III. Could this be a hint that there are two more seasons planned? And could the hand belong to a certain Madmartigan?
"Robocop (Not a big fan but I want to see the classic design again)" — Community member GodzillaLover04 on the movie they'd like to see get the legacyquel treatment, perhaps with Peter Weller reprising the role. The film had two sequels, the second of which was released in 1994 and did not feature Peter Weller. A 2014 remake starred Joel Kinnaman.
More Allagash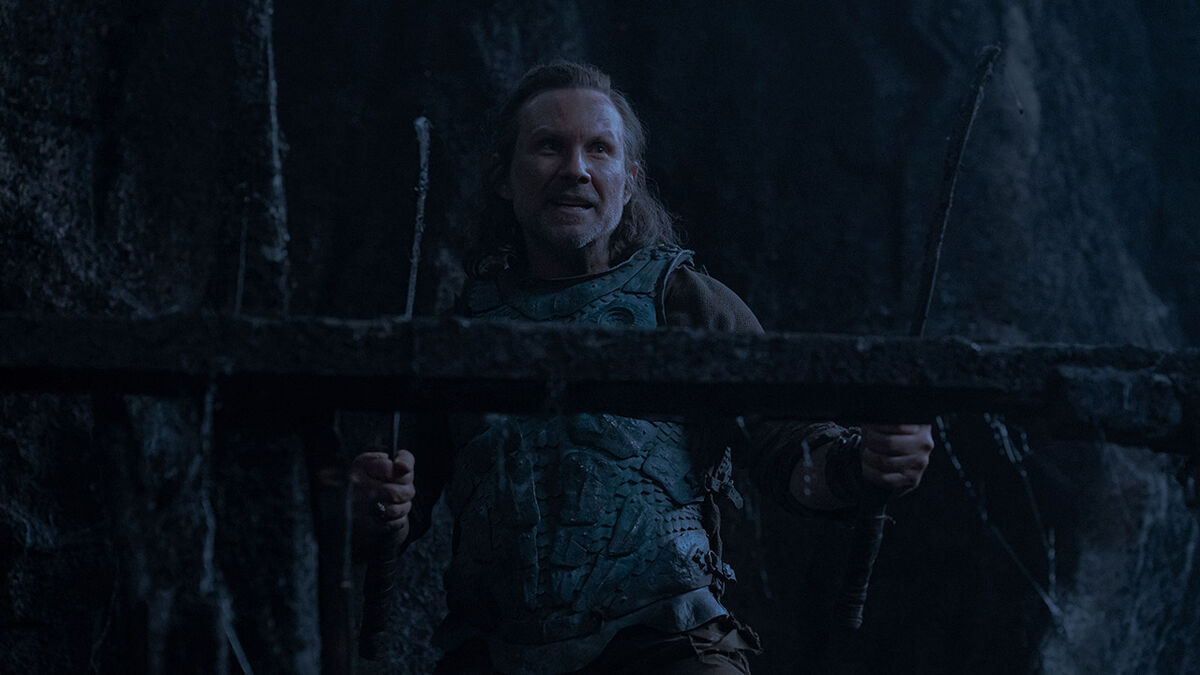 Let's address Allagash first, since we've got Christian Slater on standby to consult. The character cropped up in Episode 6, and quickly became a fan-favourite. Imprisoned for ten years by trolls in a cage, we learn that Allagash was a friend and fellow adventurer of Madmartigan's and allowed himself to be caught in order to save his friend's skin by pretending to be him.
We see him at the end of the episode hanging back to fight trolls while the rest of the group escapes. As the camera cuts away, we see him pretty much overwhelmed – but, crucially, we don't see precisely what happens to him.
"I know exactly what happens," says Slater. "Jon and I, we talked about it. We didn't want to be presumptuous while we were filming it. But we definitely know exactly what happened."
Okay, so Christian Slater isn't going to spoil anything but Kasdan hints alongside his words that there's more to come from Allagash when asked if there's scope to bring him back for Season 2.
"Absolutely," says Kasdan. "I think if you don't see someone's head get physically removed from their body in the Lucasfilm universe, they're probably still alive. And with Allagash, there is a very clear intention to not see what happens to him, so that that opportunity exists. Because he's such a fun character, and he's such a fun connection to Val's legacy. I thought he so inhabited that role the way we hoped he would as sort of a spiritual brother to Madmartigan. It seems like it would be a real shame to not see him again."
"Bloodsport" — Community member ShangoShango1679 wants to see a legacyquel to the original classic Van Damme martial arts actioner, presumably one that ignores the straight-to-video sequels that didn't star the Muscles from Brussels.
A Kilmer-Slater True Romance Reunion
So what would Slater want to explore with the character going forward?
"I think that there certainly is more to explore with the character," he begins. "I think he's a fun character. I think he was always nuts. Madmartigan would have [definitely] hung out with a guy like Allagash, and they both would have gotten into a lot of trouble together. And Allagash being locked in a crow's cage for ten years probably did a lot of other things to his brain. It's fun to play that kind of character, somebody who's sort of unpredictable; you're not really sure if you can trust them. But then, of course, he does have his heart in the right place in the end, so I think there's definitely more to explore. And there's all those other secret passages and tunnels in that troll cavern that even the trolls don't know about…"
And what if Season 2 happens, and Val Kilmer were to make an appearance – would that be cool? Jon Kasdan spoke in detail with Fandom previously about the efforts they went to in order to try to get the actor, who has had high-profile health issues, on board to reprise his role like he did in Top Gun: Maverick.
"Well, look, Val and I do have a history together," says Slater. "We were in True Romance together — he played my mentor, he was my idol [Elvis] in that movie. And he did such a brilliant job. If there was any possibility of getting Val Kilmer into Season 2, I think every effort, of course, should be made and I would go anywhere on Earth to have that happen. I think there'd probably be a way to do it that would be honouring and very sweet and certainly appreciative of what he was able to contribute to the movie."
Wyrming It Out
Kasdan says that he found Fandom's Willow wiki indispensable while working on the show ("It actually has some obscure stuff that you can only find in the Sourcebook and in very specific places [like] the novelization; and it's been a great resource to me.") but he is now responsible for adding new lore to the franchise, to be documented on those very same wiki pages. Including details about the Wyrm, the series' mysterious evil entity.
One Willow community member, Hexsmasher2099, wants to know precisely who or what is the Wyrm, so we ask Kasdan to expand.
"There is no more critical question to the Willow universe than that… they're asking the most fundamental question there can be," says Kasdan. "I would only say that at this moment, as the potential for more stories exist, that [the Wyrm's] identity will unfold, hopefully in a very satisfying way. But the Wyrm comes out of a lot of mythological and primal ideas about religion and God and the universe, and forces that are outside of human experience. And we wanted to create a villain for the show, and an antagonistic force that was, in scope and scale, unimaginable… something that was so big, that its sheer expansiveness was terrifying. And that's sort of what the Wyrm is. It's something that comes from outside and is very dangerous and malevolent in its intentions toward human life."
Well, there's a teaser for Season 2 if ever there was one. Another community member, X9 The Android, did suggest in response that the Wyrm is the "devil stand-in of the Willow universe", which aligns with what Kasdan is saying.
Lovecraftian Influence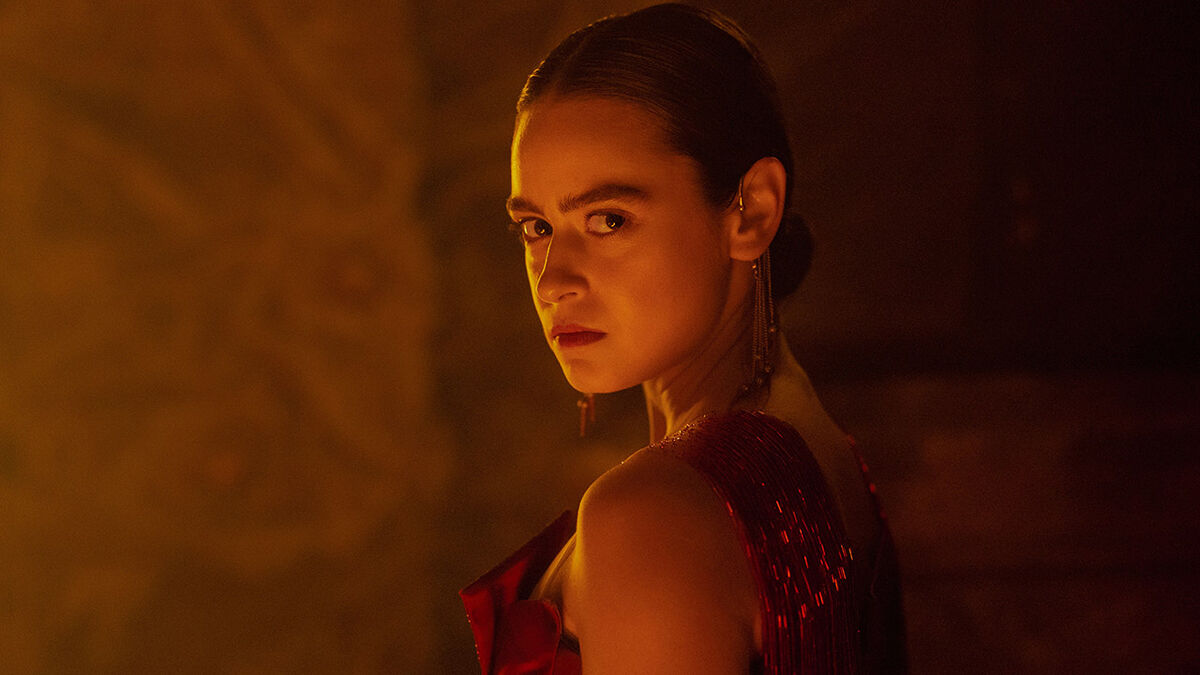 "I think in a way it is," says Kasdan. "I'm a huge Lovecraft fan … and this idea of elder gods and alien powers that are not little green men but great, magnificent consciousnesses that dwarf our own has always really appealed to me. And I liked that as a kind of villainous threat to the world. So yeah, it's definitely a stand-in for [the devil]. There's a great quote at the beginning of one of the Lovecraft stories … about chimaeras and dragons, and these creatures are all leftover from some primal experience of good and evil that we have. So the devil is one of those faces and certainly, the Wyrm is another."
Willow is a show that integrates plenty of broad comedy into its dialogue, and it is imbued with the playful spirit of the original film, so to hear Kasdan talk about the Wyrm like this is perhaps surprising. But then, Willow is a property that takes its mythology seriously even if its tone is lighter than other high fantasy we're used to these days, like Game of Thrones or The Lord of the Rings.
"I'm a big nerd, and I'm acutely aware of all the shows that are happening," says Kasdan. "I watched The Lord of the Rings, and I watched House of the Dragon, and I watch The Witcher and The Wheel of Time. And the burden comes to each of the creators of those shows, and myself, to differentiate what we're doing from the other stuff that's out there. And the way that we felt naturally [was that] this thing was a little different; the spirit so deeply ingrained in the movie is whimsical, and fun and playful, and we really wanted that to be the character of the show."
Legacyquels to Love
Willow, as we said before, is a legacyquel – a sequel to a movie that hasn't had a follow-up for many years. And with legacyquels very much in vogue, we asked Kasdan and the cast – as well as Fandom community members – what legacyquel they'd most like to see that hasn't been made yet.
Kasdan's answer? A movie with a similar spirit to Willow.
"That's not that hard a question for me because I have a very specific answer," he says. "There's an obscure movie — it's not that obscure, but it's pretty obscure — from the mid-eighties called The Adventures of Buckaroo Banzai Across the 8th Dimension."
It's a film with a cult following, which over the years almost got adapted for TV but never materialised.
"At the end of Buckaroo Banzai, at the end of the credits, there is — much like a Marvel movie — the promise on the screen that Buckaroo Banzai will return, and he never did. And I've always wanted more of that. I love Peter Weller's performance in that movie. I love Jeff Goldblum. It's great. It's a funny one, actually, because it has certain similarities to our show, in that it takes its threats very seriously, but it has a tone of total fun and wildness. I just love that movie."
Flash Gordon is another movie predating Marvel that suggested a continuation but which never came to be.
"Yes, totally," says Kasdan. "I think that's alive and developing somewhere. Sometimes, the right filmmaker who has affection for these things comes to it. It's like with Blade Runner — it couldn't be a better continuation, in a way, of that world and saga. And that's a great gift."
"The Goonies … it's this, like, youthful energy. One, I think as an adult, it brings you back to your childhood; and two, as a child, you wish you could have that adventure. You imagine yourself in that adventure, and you want to be on that adventure. Also, [for the sequel] you've got to bring everyone back as an adult, and maybe it's their kids doing the whole thing." — Tony Revolori, who plays Graydon in Willow, on the legacyquel he wants to see.
Once Bitten
Christian Slater has made a bunch of movies that never got sequels, so which of his would he most like to revisit in a legacyquel?
"There's a lot I would like to revisit," says Slater. "I'd like to know what happened to the guy in Interview with the Vampire – Malloy. Because I did get bitten at the end of the movie. And I would like to know what happened to that guy? I mean, obviously, I'm a little [older but] I don't know, I think I could probably pull it off. You know, I haven't changed that much. We could possibly revisit it."
He also is open to reprising his role as Will Scarlet from blockbuster Robin Hood: Prince of Thieves ("Where's that guy? What's happening with him? I think there are elements of Will Scarlett in Allagash.") but I want to know about where things are with the rumoured Young Guns III. Now that's the legacyquel we're demanding.
"The Neverending Story is one of my favourite films of all time, and MirrorMask, I think as well. There's this potential, but I don't know if I want to see [them] rebooted unless I was in [them]. That's my rule if it gets done again." — Amar Chadha-Patel who plays Boorman in Willow picks his legacyquel contenders. The Neverending Story had two sequels, the second of which, released in 1994, was not based on Michael Ende's novel.
Young Guns Threequel
With Emilio Estevez a while back saying that the film was in the works, and Christian Slater reportedly on board to reprise his role as Arkansas Dave Rudabaugh from Young Guns II, we broach that topic.
"I haven't heard," he says. "I think that is just a rumour. Emilio and I have worked together on a couple of movies now that he's directed and I love him. I just don't know if [Young Guns III] is something that is necessarily ever going to happen. Although, I did love that character. Arkansas Dave was fun. Again, another fun, kind of unpredictable, quirky character. And I don't believe that he was decapitated, necessarily. I think that was just some story at the end of the movie, and he probably did have some further adventures. I don't know if we'll ever get to see them. He lives on in our imagination."
Hear that? That's the collective sigh of disappointment as Young Guns fans read Slater's words (this one included). But we can at least look forward to more Allagash in future instalments of Willow. Probably.
Catch Willow on Disney+.
---
For more from the cast of Willow, check out the article below.